Logitech-owned Jaybird has been designing Bluetooth earbuds since 2007 and has established itself as a manufacturer known for creating quality headphones ideal for working out.
Jaybird's latest product, Freedom, is the culmination of years of design refinements. The Freedom Wireless Buds are Jaybird's smallest and most comfortable yet, with a sleek sweat-proof design, multipoint pairing, and up to eight hours of battery life. As with most products, there are some downsides, so make sure to read on to find out what to expect from Jaybird's latest product.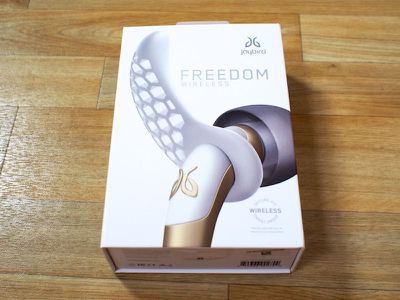 Design and Fit
Jaybird's Freedom Buds are tiny, a feat achieved by moving many of the audio components from the earbuds themselves to the remote control. Jaybird sells the Freedom in a range of colors from white and black to red and blue, with the earbuds themselves made from metal with plastic accents.

Visually, they're smaller than any other earbuds on the market, but they look and feel like a quality product thanks to the metal design, a deviation from previous plastic earbud designs from Jaybird. These are wireless headphones, which means there's no wire to plug into your phone because they connect via Bluetooth. I loved the look of the gold and white Freedom earbuds I tested -- they're small and sleek, the perfect companion to an iPhone.


There's a cord that connects the two earpieces together, and on the right side of the cord, there's a remote. Unlike the earbuds themselves, there's nothing small about the remote. It houses all of the electronics normally located in the earbuds, and while it's not heavy, it is bulky. It measures in at nearly two inches long and 1/4 inch thick.


When it comes to earbuds, comfort is my number one priority. I have small ears and with most headphones, Apple's EarPods and UrBeats included, the insides of my ears start aching within a half an hour. The Freedom Buds are small enough that I barely feel them in my ears, even when using them for a couple of hours at a time.


With the wide range of tip options that come in the box, I suspect most users will be able to get a comfortable fit. There are silicone ear tips in small, medium, and large, plus Comply foam ear tips, also in small, medium, and large. I used the silicone tips while testing the Freedom Buds because the sound was better, but the foam tips were also comfortable.


The earbuds fit well in my ears, but getting them to stay in my ears was another issue. The bulk of the remote on the right earbud caused the earbuds to continually slip out of my ears and I was never really able to get a secure fit. Jaybird does include a set of ear fins with the earbuds, made of a soft, supple silicone, and that was the only way I could get them to stay put when moving around.
Jaybird says the Freedom Buds are sweat proof, and I didn't have any issues. I didn't run them under water or anything, but they definitely held up during regular activity.
Jaybird's earbuds can be worn in two ways, depending on user preference. You can wear them like standard earbuds under the ears, or you can wear them over-ear with the cord wrapped behind your ears. Wrapping the cord around the ears alleviates some of the bulk of the remote, and two cord management clips can customize the cord length and further relieve the remote weight to make the earbuds more comfortable.
Shortening the cord of the Freedom Buds meant the remote hung down a bit less and was less in the way, but no matter what, it always pulled on the right earbud and was a consistent irritation. With heavy activity, the earbuds had a tendency to slip out of my ear a bit because of the remote's weight, but clipping them to my shirt helped with the slippage, as did adding the fins.

Battery
The earbuds alone have a battery life of approximately four hours, but there's an extra charging clip you can clip on to the remote to extend battery to eight hours. Theoretically, you can use this clip while the earbuds are in use, but it was just too bulky, heavy, and silly looking for me to use the charging clip this way.


Made of black plastic, the charging clip snaps right onto the back of the remote. It's a battery in of itself, and it's also what's used to charge the Freedom Buds through a micro-USB port. The earbuds ship with a small micro-USB cable that can plug into any USB port or USB charger.
Frequent charging is one of the biggest downsides to wireless earbuds, and while I wasn't a fan of using the clip while wearing the earbuds, it was a clever accessory for charging on the go. Snapping the clip onto the earbuds while they were in my purse was a quick and easy way to recharge them without needing to plug them in and it ensured I was never stuck with dead earbuds. 20 minutes of charging offers an hour of music playback.


My one qualm with the clip is its size. It's small and easy to lose, and as far as I can tell, Jaybird isn't selling replacements yet. It's also worth noting that when you attach the clip to the remote while music is playing, it'll cut off and need to be restarted.
Jaybird put a lot of thought into making charging as easy as possible, even down to the user interface. When the earbuds are turned on, the battery level is announced, and it's also visible in the MySound app and in the Notification Center when connected to an iOS device.
An orange light is displayed when the earbuds are charging, and it changes to green once charging has completed. In my experience, it took just a couple of hours to charge the earbuds from dead to full.

Sound
I'm not an expert on sound, but as an average earbud user, the Jaybird Freedom sounds great -- better than other wireless earbuds I've tried and better than many of the wired earbuds I own.
Noise insulation and blocking isn't great, but because the earbuds are so small, it's possible to get a good seal in the ear for the best possible sound. With a tight seal, all of the music I played was crisp and balanced, especially after I adjusted the equalizer to my tastes with the MySound app. The only negative I noticed was somewhat muddy bass on bass heavy songs.


Volume wise, the earbuds got loud enough to block out almost any ambient noise while still sounding clear and non-distorted.
Using the app, it's possible to make minute adjustments and download sound profiles like "Bring the Bass," "R&B" Jams, and "Warmth." There are even sound profiles created by pro athletes like Sonya Looney and James Lawrence.
While sound is good, I wasn't impressed with the range of the Freedom Buds. Jaybird says optimal range is about two feet, and that was about accurate to me. Direct line of sight also seemed to be required for clear sound - stepping into another room could cause it to cut out, and holding my phone in certain positions outdoors also sound to cut out once or twice. Jaybird recommends an armband that keeps the iPhone above the elbow when using the earbuds outdoors.
I had no trouble connecting the earbuds to any Bluetooth device, from my Mac to my iPhone to my Apple Watch. It was all seamless and simple.

Other Features
In addition to offering volume up, volume down, and power buttons, the remote also incorporates double presses for additional functionality. Holding down on the volume up button goes to the next song, while holding down on the volume down button goes back to the previous song. A short press on the middle button initiates a redial, a longer press ends a call or activates Siri, and an even longer press turns the earbuds off.
There's a built-in microphone so the earbuds can be used for making phone calls, and the calls I made with it sounded loud and clear with no interference. When on a call, the buttons on the remote can be used to switch a call over to the Freedom, mute and un-mute, or place a call on hold and answer a second call.
A built-in "Multipoint" feature lets the earbuds pair with and connect to two different Bluetooth devices at once, allowing for quick switching. You can use the earbuds to listen to music on one device, like a Mac, and then switch over to answer a call, and there's also a sharing feature for listening to the same music on two sets of Freedom earbuds from one device.

Bottom Line
$200 is a lot to spend on earbuds. It's more than i normally spend because I'm prone to losing them, and I have mixed feelings on whether or not the Jaybird earbuds are worth the purchase price.
On one hand, I love the size, comfort, and long battery life, but that bulky remote was nearly a deal breaker for me, constantly getting in the way and pulling the earbuds out of my ears. It's entirely possible that due to my small ear size and ear shape, I wasn't able to get a good enough fit with the Freedoms to keep them in my ears, so others might have a different experience.


If you can get a good, secure fit with Jaybird's latest earbuds, I think you'll be happy with them. The sound is great for the average user and they're undeniably comfortable, but you'll definitely be paying a premium for these features. At $200, the Freedom earbuds are pricier than quality options from competitors.
We all have different ear shapes so not every set of earbuds is going to fit every ear. I'd recommend giving the Freedom a try if you're looking for a set of premium wireless earbuds, but buy from Amazon so you have an easy way to return them if they don't work out.
Pros:
Tiny
Comfortable fit, even in small ears
Fins keep earbuds secure
Fins are comfortable to wear for hours at a time
On the go charging with battery dongle
Can customize sound with accompanying app
Cons:
Remote is bulky, weighs earbuds down
Remote pulls earbuds out of ear
Battery life is limited
Extra battery dongle is heavy/bulky
Battery dongle is easy to lose
How to Buy
Jaybird's Freedom Wireless Buds can be purchased from the Jaybird website or Amazon.com for $199.95.
Note: Jaybird provided the Freedom Wireless Buds to MacRumors free of charge for the purposes of this review. No other compensation was received.