Apple in March 2019 launched second-generation AirPods that include several new features over the original models, including the ability to wirelessly charge using third-party charging pads. In October 2019, it then launched AirPods Pro, which offer the same functionality.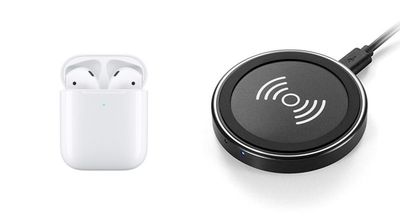 Third-party charging mats from the likes of Anker can charge AirPods 2 and ‌AirPods Pro‌
Apple also launched a Wireless Charging Case for use with first-generation AirPods, so if you bought a pair of new AirPods with Wireless Charging Case, or you purchased a Wireless Charging Case separately, then keep reading to learn how the charging procedure works.
How to Charge Your AirPods or AirPods Pro Wirelessly
New Apple AirPods usually come fully charged out of the box, but at some point during use you'll hear a tone when your AirPods' batteries are low, and another tone just before they run out.
When that time comes, it's time to charge your AirPods. Simply putting them back in the case usually does the trick – the case holds multiple, full charges for your AirPods, allowing you to charge on the go. But at some point the charging case will also become depleted, and then it will need charging too.


Apple's Wireless Charging Case, second-generation AirPods, and ‌AirPods Pro‌ can be charged with almost any Qi-compatible charging mat or stand (although we've heard scattered reports of AirPods incompatibility with some Mophie chargers). If you don't have a charging accessory and are wondering which one to buy, check out our roundup of the best Qi-compatible charging mats and stands for Apple devices. At any rate, here's how the charging procedure works.
Place the case on the charger with the status light on the front of the case facing up (or towards you if you're using a stand). Note that you can charge your case with or without your AirPods inside.


The status light should turn on for several seconds, then turn off as it continues to charge.
If the light doesn't turn on when you put it on the charging mat, try repositioning the case.
If you have trouble getting the case to charge, check that the cable is firmly plugged into the charging mat and that the other end is correctly plugged into a power outlet. If the case still isn't charging, don't forget that you can also charge it by plugging the supplied Lightning cable into the Lightning connector on the bottom, and the other end of the cable into a USB charger or port.

Checking Your AirPods Battery Life
You can check the battery status of your AirPods by opening the charging case lid with the AirPods inside and holding the case close to your iPhone. The charge status of your AirPods and their case should appear on the device's screen, and if you take out an AirPod, you'll see individual percentages for the two earpieces.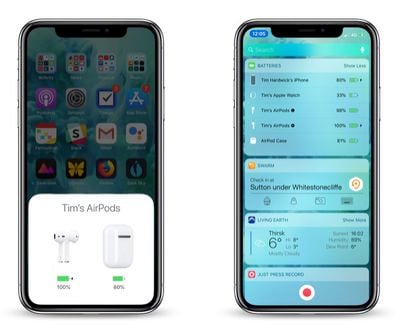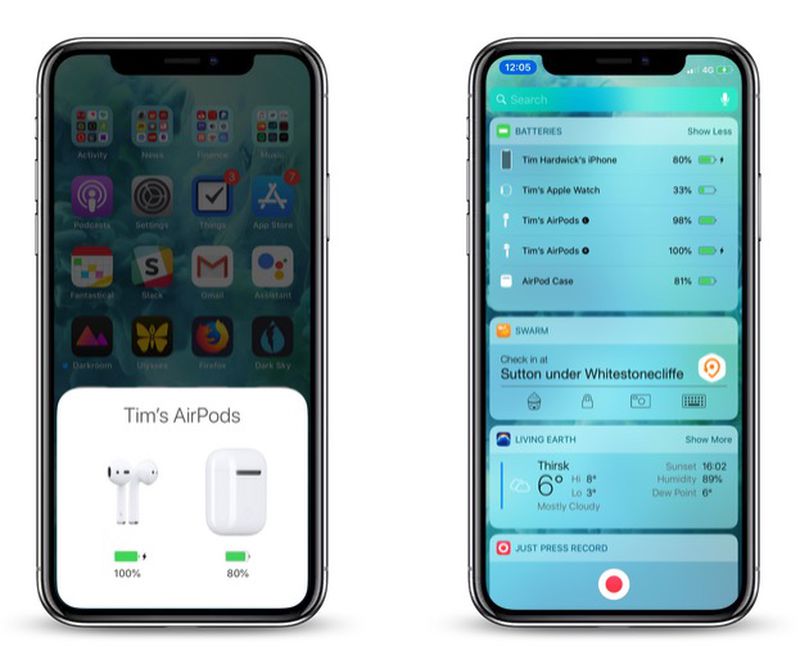 You can also check the charge status of your AirPods using the Batteries widget in your ‌iPhone‌'s Today View, accessed by swiping right on the Lock screen or on your Home screen's first screen of apps.
A fully charged Wireless Charging Case will provide AirPods with more than 24 hours of listening time, or up to 18 hours of talk time. If you charge AirPods for 15 minutes in the case, you get up to 3 hours of listening time or up to two hours of talk time. If you charge your ‌AirPods Pro‌ for 5 minutes in their case, you get around 1 hour of listening time or around 1 hour of talk time.