Apple in March debuted second-generation AirPods, featuring several updates over the original massively popular wireless earbuds of the same name.
So what's improved in the new AirPods compared to the older model, and what's stayed the same? Read on to find out.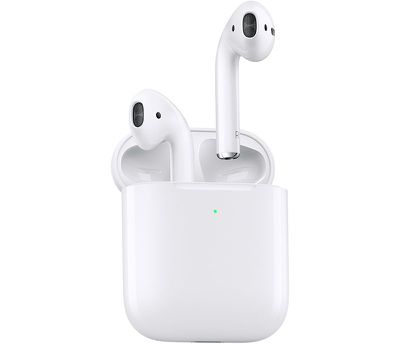 Price of New AirPods vs. Old AirPods
Buying Apple's original AirPods was straightforward as they came with a single $159 price tag, but that's changed with the second-generation models.
The new AirPods still start at the same price, but customers now have the option to buy the earbuds with a Wireless Charging Case for $199.


Apple is also offering the Wireless Charging Case separately for $79, so if you already own first-generation AirPods you can buy the case and charge your earbuds using any Qi-compatible charging mat. The Wireless Charging Case still includes a Lightning port so you can charge your AirPods via cable if you prefer.
Apple's new AirPods can be ordered on Apple's website and will be available in Apple Stores and resellers from March 26, 2019. Apple no longer lists first-generation AirPods on its website, but you should be able to find them elsewhere online at a lower price now that the new AirPods are available.
Design of New AirPods vs. Old AirPods
Apple's new AirPods look identical to the first-generation models, save for a single LED on the front of the Wireless Charging Case. This light simply tells you the charging status of the AirPods when you place them on a Qi-compatible charging mat. On the standard charging case, which came with the original AirPods, the LED was inside the lid between where the two AirPods go.
Otherwise, both versions of AirPods have the same dimensions and weight, and both are only available in white.
Processor in New AirPods vs. Old AirPods
Apple's second-generation AirPods use a new proprietary chip called the H1, whereas the original AirPods run on the W1 chip.
Both chips are responsible for the earbuds' seamless one-tap pairing process, but Apple claims the H1 allows the new AirPods to connect to calls up to 1.5 times faster and generally provide a more stable wireless connection to devices like iPhones and iPads, while making them up to twice as fast when switching between active devices.
In addition, the H1 chip delivers up to 30 percent lower latency, which means you should experience fewer delays between onscreen events and their accompanying audio when playing games.
Using Siri With New AirPods vs. Old AirPods
One of the headline features of the new AirPods is the ability to invoke Siri handsfree when you're wearing them, thanks to Apple's new H1 chip.


With the first-generation AirPods you have to double tap the earbuds before you can talk to the personal assistant, but the new models allow you to say simply "Hey ‌Siri‌" for it to register your spoken query or command. This is particularly neat if you wear them when your hands are busy or you want to exclusively control your music using ‌Siri‌ commands.
Battery life in New AirPods vs. Old AirPods
Apple's new AirPods offer the same overall battery life as the original AirPods, which is 5 hours on a single charge and over 24 hours of additional battery capacity in the charging case. According to Apple, the second-generation AirPods offer 50 percent more talk time due to the H1 chip.
In other words, the new AirPods get up to three hours of talk time per charge, compared to up to two hours with the previous generation. So that's something to think about if you'd be using them to take a lot of calls.
Bottom Line
Apple's second-generation AirPods aren't an earth-shattering upgrade over its original wireless earbuds, with the company seemingly holding rumored features like health monitoring, noise cancellation, and water resistance for the next generation, expected in 2020.
That said, new features like handsfree "Hey ‌Siri‌" activation and wireless charging are still welcome improvements, and even if you're not convinced they present a worthwhile upgrade over your first-generation AirPods, you still have the option to buy the new wireless case to charge your existing earbuds using a Qi-compatible charging pad.
Whatever you decide, be sure to check out our complete guide to AirPods to learn a lot more about what AirPods can do and how you can make the most of them, and read our roundup for more details on the new second-generation AirPods.

Ready to Buy Airpods or AirPods Pro?
Check our constantly updated guide for best deals on AirPods.