There's a serious bug affecting FaceTime right now, which lets someone who calls you hear the audio on your iPhone, iPad, or Mac even if you don't answer the call.
There does not appear to be any way to avoid getting these unwanted calls, short of turning off FaceTime. Luckily, it's easy to do.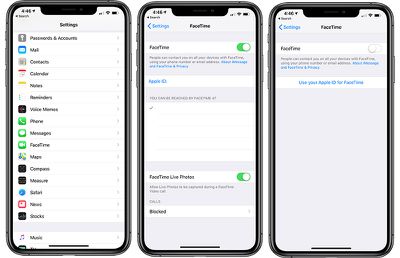 How to Turn Off FaceTime on Your iPhone and iPad
Open the Settings app.
Scroll down to ‌FaceTime‌.
Click on the toggle next to "‌FaceTime‌."
This will turn off ‌FaceTime‌ on your specific device, but you will need to deactivate ‌FaceTime‌ on all of your iPhones and iPads to avoid unwanted spy calls if you use ‌FaceTime‌ connection methods other than a phone number.

How to Turn Off FaceTime on macOS
Open up the ‌FaceTime‌ app.
Click on "‌FaceTime‌" in the menu bar.
Select "Turn ‌FaceTime‌ Off."
You can also choose "Preferences" and deselect "Enable this account to deactivate ‌FaceTime‌.
With ‌FaceTime‌ disabled, no one will be able to secretly ‌FaceTime‌ call you to listen to your audio. With ‌FaceTime‌ enabled, anyone can exploit a Group FaceTime bug to place a call to you that will allow them to listen to your audio even if you don't accept the ‌FaceTime‌ call.