In iOS 12, Do Not Disturb mode conveniently allows you to silence all calls, alerts, and notifications on iPhone or iPad for a given period and reduce the potential for unnecessary distractions.
Aside from new time-limited options in iOS 12's Control Center, Do Not Disturb can be turned on and scheduled ahead of time by going to Settings -> Do Not Disturb. Among these settings, there's also an Allow Calls From option for which you can choose Everyone, No One, or Favorites.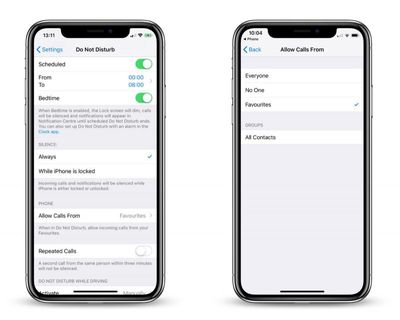 Given these last three choices, it would seem fair to assume that the only way to let specific contacts get through to you when Do Not Disturb is on, is to add them to your Favorites list. However, there's another way to let a contact bypass Do Not Disturb mode, and it has nothing to do with enabling the Repeated Calls option.
In fact, the little-known feature described below is arguably more powerful, since it lets you receive only text messages from that contact, or only phone calls from them (or both, if you wish) for just as long as the feature is enabled. Keep reading to learn how it's done.

Launch the Contacts app on your iPhone.


Tap a contact in the list.
Tap Edit.


If you want to let calls come through from this contact when Do Not Disturb mode is active, tap Ringtone and then on the next screen toggle the Emergency Bypass switch to the green ON position.

Tap Done to return to the Contact card.
Similarly, if you want to let text messages come through from the contact, tap Text Tone and then enable Emergency Bypass on the next screen.
Tap Done to return to the Contact card.

Tap Done to finish.
As some readers have noted, enabling Emergency Bypass also allows the contact's call ringtone or message alert to sound even when your iPhone or iPad is muted, so it's best to use the feature selectively, i.e. when you're expecting to hear from that contact.