Snap Articles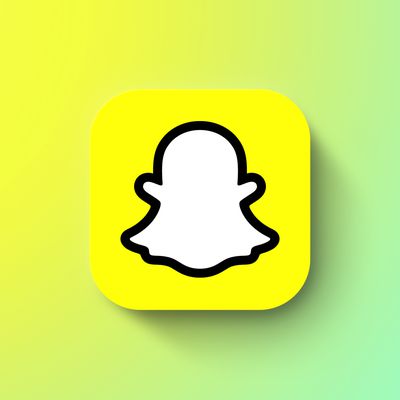 Snap CEO Evan Spiegel today told CNBC that his company is "happy" to pay Apple's 30 percent cut of in-app purchases because of the benefits that Apple provides with its software and hardware. We really feel like Snapchat wouldn't exist without the iPhone and without the amazing platform that Apple has created. In that sense, I'm not sure we have a choice about paying the 30% fee, and of...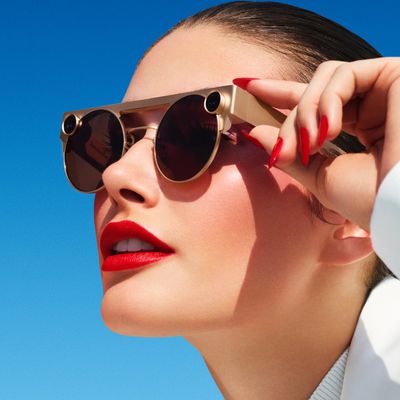 Snap is designing a new set of "Spectacles" smart glasses that have augmented reality capabilities, reports The Information. Snap has sold several versions of its Spectacles, but current options do not have AR features and are instead equipped with a camera for uploading content to social network Snapchat. The augmented reality Spectacles will be aimed at developers and creators rather than...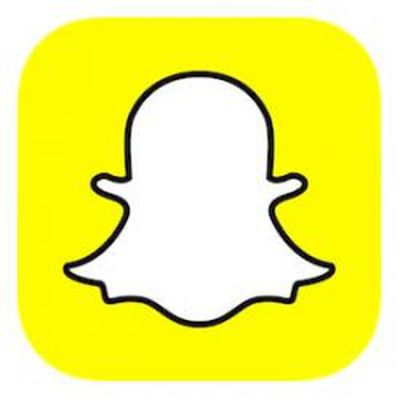 With Apple's upcoming iOS 14 privacy changes looming, Snap on Thursday warned investors that they could hurt Snap's ad business (via Reuters). Starting with the next versions of iOS 14, iPadOS 14, and tvOS 14 due to be released in the early spring, Apple's App Tracking Transparency privacy measure will require all apps to request the user's permission to track their activity across other apps...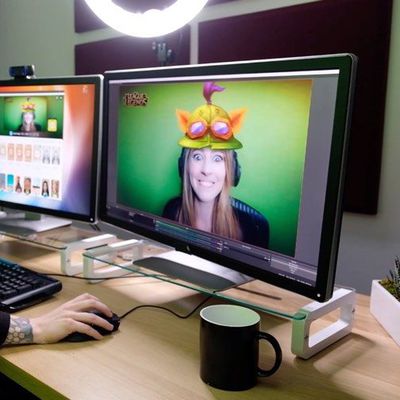 Snap today announced the launch of Snap Camera for Mac, which brings Snapchat's well-known collection of lenses and filters to Macs and PCs. The Snap Camera app, which can be downloaded from Snapchat's website, offers up a simple interface with a camera field and access to hundreds of Snapchat lenses that add fun effects to your face using the Mac's camera. The different lenses available...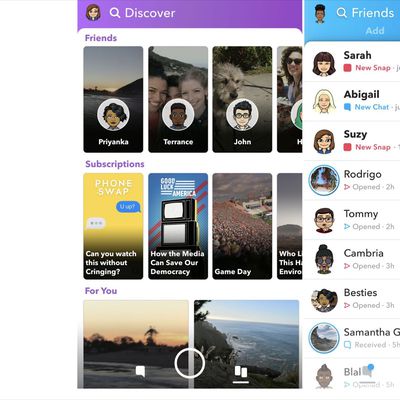 Snapchat has adjusted its iOS app interface to placate a large number of dedicated users who complained about the recent redesign, reports The Verge. Snap unveiled its radical redesign in November with the goal of creating a personalized user experience that's easier to navigate, especially for newcomers. But the change didn't go down well with many long-time users, so much so that 1.2 million ...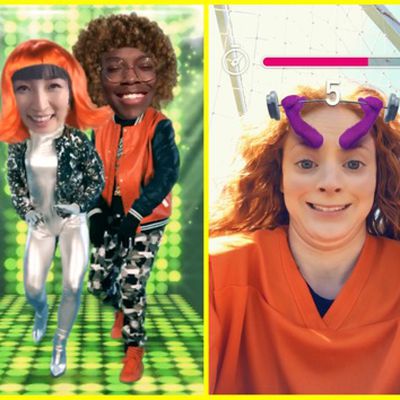 Snapchat today announced the launch of Snappables, which are new Snapchat Lenses that are designed to allow Snapchat users to play augmented reality games with their friends. Interactive Snappable lenses are located right near other Snapchat Lenses in the Lens Carousel and can be accessed by tapping the icon on the left side of the capture button. To use a Snappable, tap the Snappable...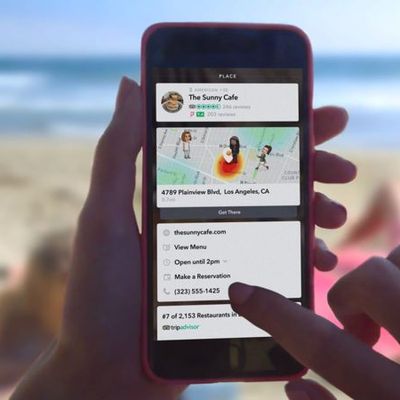 Longtime Snapchat users should prepare themselves for a radical overhaul of the way the mobile app works, based on comments made by Snap CEO Evan Spiegel in his earnings letter to investors on Tuesday. With the company falling short of lowered projections for growth, Snap put much of the blame on the fact that the social platform is simply a mystery to outsiders. "One thing we have heard over...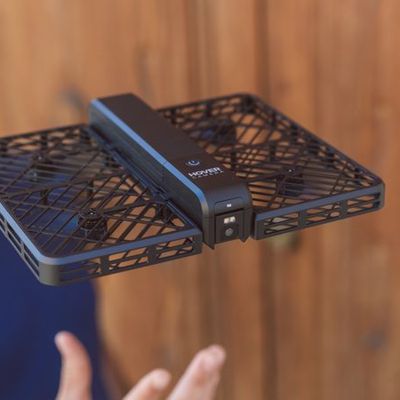 Snapchat parent company Snap is in talks to purchase Zero Zero Robotics, the company that created the $500 Hover Camera Passport Drone that's currently sold exclusively at Apple retail stores and Apple.com, reports The Information. The Hover Camera Passport is an ultra lightweight drone that's designed to work as a personal camera, following closely behind a person and capturing hands-free...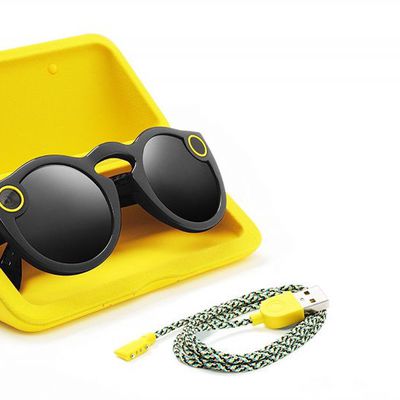 After debuting exclusively inside special pop-up vending machines last year before becoming available as direct web orders, Snap has now begun selling its video-recording Spectacles through Amazon for the first time. When synced with the Snapchat mobile app, users can tap a button on the Spectacles to begin recording a 10, 20, or 30-second video, which is saved in the "Memories" section of...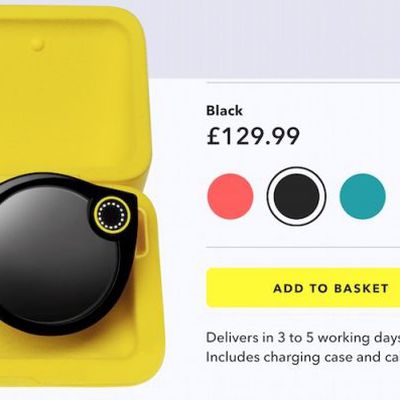 Snap made its Spectacles available across Europe today, almost seven months after the company debuted them in the U.S. For anyone unfamiliar with Snapchat's first hardware product, the Spectacles are a one-size-fits-all pair of sunglasses that can record 10 seconds of video at a time and sync wirelessly with the mobile Snapchat app. More than 55 million people use Snapchat daily in...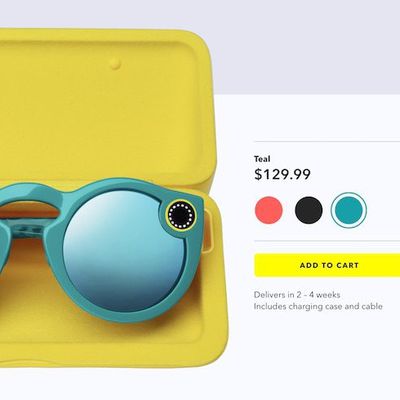 After debuting exclusively inside special pop-up vending machines last year, Snapchat has today begun selling its video-recording Spectacles online for $129.99. Like in the vending machines, the Spectacles come in Coral, Black and Teal, and include a charging case and cable. At the time of writing, shipping estimates sit at a delivery time within the next 2-4 weeks. Snapchat CEO Evan Spiegel ...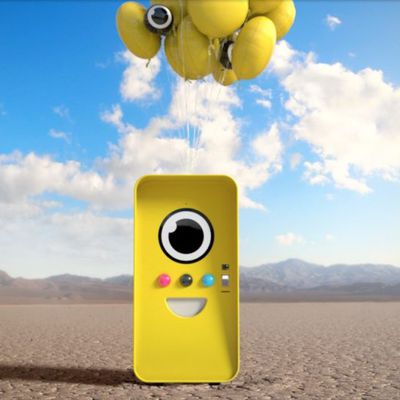 Snapchat's video-recording Spectacles became available to buy in the U.S. on Thursday, not online or in stores, but from pop-up vending machines. Called 'Snapbots', the giant vending machines will dispense the Spectacles in either Black, Coral or Teal, and allow customers to try them on virtually using a built-in augmented reality display. For those unfamiliar with Snapchat's first...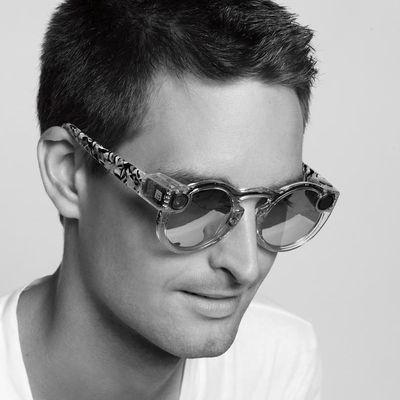 Snapchat has announced its first hardware product, a one-size-fits-all pair of sunglasses called Spectacles that can record 10 seconds of video at a time, reports The Wall Street Journal. The glasses will cost $130 and launch this fall in three colors: teal, black and coral. Video will sync wirelessly to a paired iPhone or other smartphone. Snap CEO Evan Spiegel in Spectacles, Photo by The WSJ ...