Snap Might Buy Zero Zero, Company Behind Hover Camera Drone Sold Exclusively at Apple Stores
Snapchat parent company Snap is in talks to purchase Zero Zero Robotics, the company that created the $500 Hover Camera Passport Drone that's currently sold exclusively at Apple retail stores and Apple.com, reports The Information.
The Hover Camera Passport is an ultra lightweight drone that's designed to work as a personal camera, following closely behind a person and capturing hands-free photos and videos using face and body tracking. Given its small size (242 grams) and its foldable carbon fiber body, the Hover Camera Passport can go essentially anywhere.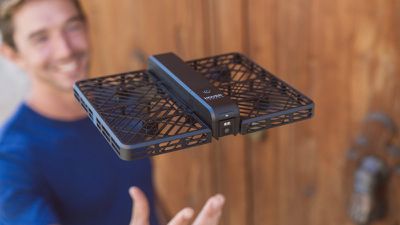 If Snap establishes a deal with Zero Zero Robotics, the Hover Camera Passport and future related products would join Snap's existing Spectacles, which are camera-equipped sunglasses meant to capture short videos and upload them to Snapchat.


Right now, the Hover Camera Passport is exclusive to Apple Stores, and Apple has inked a deal with Zero Zero that has made demo products available in many Apple retail stores around the world. Should Snap purchase Zero Zero, the latter company's deal with Apple would presumably end.
Zero Zero is said to have approached Snap in an effort to secure additional funding, but a potential purchase price isn't available. Snap has reportedly been looking into acquiring drone companies since mid-2016, and has already purchased one small drone maker in Los Angeles.