Snapchat Announces 'Spectacles,' $130 Sunglasses That Record 10 Seconds of Video at a Time
Snapchat has announced its first hardware product, a one-size-fits-all pair of sunglasses called Spectacles that can record 10 seconds of video at a time, reports The Wall Street Journal. The glasses will cost $130 and launch this fall in three colors: teal, black and coral. Video will sync wirelessly to a paired iPhone or other smartphone.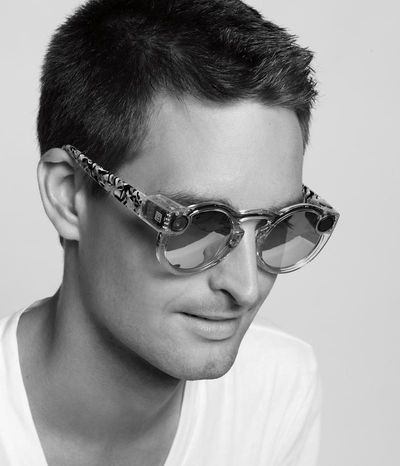 Snap CEO Evan Spiegel in Spectacles, Photo by

The WSJ


The glasses record when you tap a button near the hinge, and each tap records 10 seconds of video footage from its 115-degree-angle lens. The lens was designed to be wider than smartphone cameras, more closely mirroring the natural view of human eyes. The video is recorded in a circular format, as Snapchat CEO Evan Spiegel argues that the square and rectangle form that photos and videos currently come in are a vestige of early photos being printed on paper.
Snapchat has been developing Spectacles for years, and Spiegel has been testing the device himself for a year. He tells The WSJ that one of the advantages of Spectacles is not having to hold a smartphone in front of your face because it's "like a wall." Re-watching first-person footage is like reliving a memory, Spiegel argues.

He remembers testing a prototype in early 2015 while hiking with his fiancée, supermodel Miranda Kerr. "It was our first vacation, and we went to Big Sur for a day or two. We were walking through the woods, stepping over logs, looking up at the beautiful trees. And when I got the footage back and watched it, I could see my own memory, through my own eyes—it was unbelievable. It's one thing to see images of an experience you had, but it's another thing to have an experience of the experience. It was the closest I'd ever come to feeling like I was there again."
Spiegel refers to Spectacles as a "toy," and that the best use of it would be to wear it at an outdoor concert or barbecue "for kicks." The company is taking a slow approach to launch with limited distribution, similar to Google Glass. Spiegel says Snapchat wants to "figure out if it fits into people's lives and seeing how they like it." When asked why they made the product and decided to enter the hardware market, Spiegel said "because it's fun."
Snapchat has also changed its company name to Snap, Inc as it has expanded its portfolio past its Snapchat app, similar to how Apple changed its name from Apple Computer.
Spiegel thinks of the newly-dubbed Snap, Inc as a camera company rather than a social media company, The WSJ notes. He studied the early histories of Kodak and Polaroid and how they pitched portable cameras to the public. Spectacles gives Snap control of a physical camera, bypassing the smartphone cameras, like that of the iPhone, at the heart of Snapchat thus far. Spiegel hints to The WSJ that there could be "far-reaching implications" if Snap controlled the hardware its users take pictures and video with.