PlayStation
By MacRumors Staff
PlayStation How Tos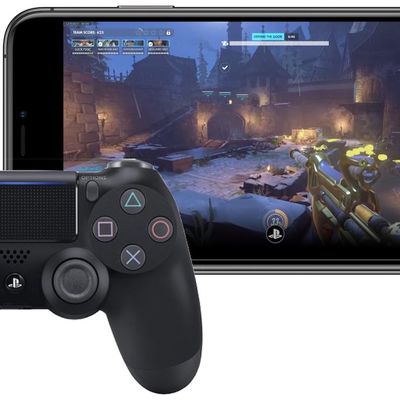 With iOS 13 and tvOS 13, Apple users are now able to connect their favorite console controllers to an iPhone or Apple TV. In this guide, we've provided a quick rundown of how to go about pairing the DualShock 4 Wireless Controller and Xbox Wireless Controller to both iOS and tvOS devices. Previously, MFi controllers were the only solution to playing games on iPhone, iPad, and Apple TV. With...
PlayStation Articles
Apple today at WWDC 2019 announced that the iPhone, iPad, and Apple TV are gaining Xbox One S and PlayStation 4 DualShock controller support for games in iOS 13, iPadOS, and tvOS 13 respectively. This much-welcomed news provides ‌iPhone‌, ‌iPad‌, and ‌Apple TV‌ gamers with additional options beyond MFi-certified controllers like the SteelSeries Nimbus and the Siri Remote for the ‌Apple TV‌. ...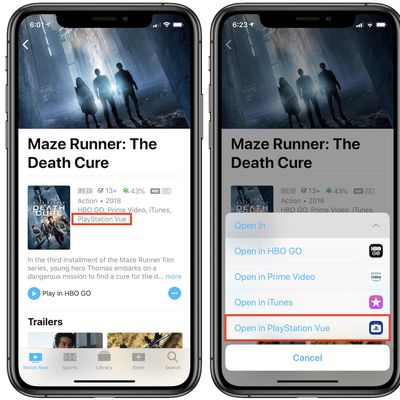 Live TV streaming service PlayStation Vue recently added support for Apple's TV app on fourth and fifth-generation Apple TV devices, as well as on iOS. With this addition, PS Vue subscribers can now sync the on-demand movies and TV shows they watch within Sony's app to the TV app, making it easier to jump directly into a PS Vue stream. The update is evident when browsing for movies and TV...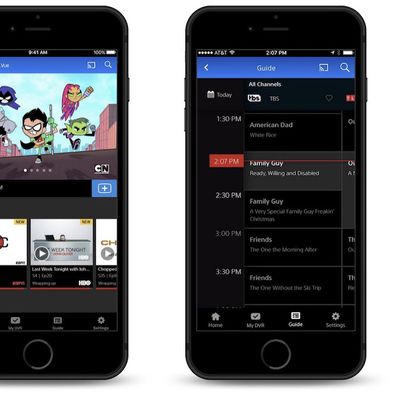 Following DirecTV Now's addition of numerous local stations for its customers, Sony this week announced the addition of around 200 new local network affiliates for PlayStation Vue users in cities across the United States. These include affiliate partners with ABC, FOX, and NBC in cities like Buffalo, Honolulu, Memphis, Austin, and many more. ABC affiliates on PS Vue now include Cincinnati,...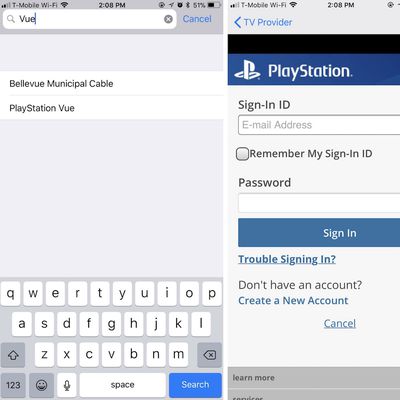 While most of the leaked information from the iOS 11 golden master has hinted at major features coming to the iPhone and Apple Watch, a few smaller tidbits have surfaced online today. One of these is the apparent confirmation that PlayStation Vue will support Apple's Single Sign-On feature once the software update launches to the public later in September. This suggests Single Sign-On will also...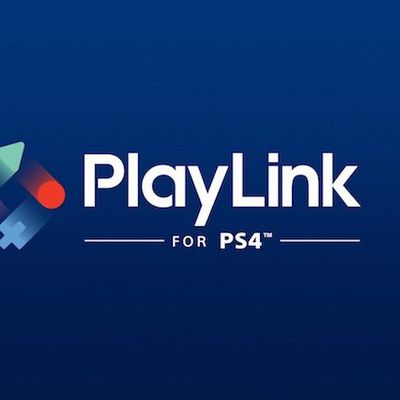 At E3 this week, Sony announced a new social multiplayer experience for its PlayStation 4 console called "PlayLink," which will use iOS and Android devices as extensions of gameplay happening on the console. The games offered through PlayLink are designed to be played in a group setting, and will be available for purchase through the PS4's PlayStation Store. Introducing PlayLink, a brand new ...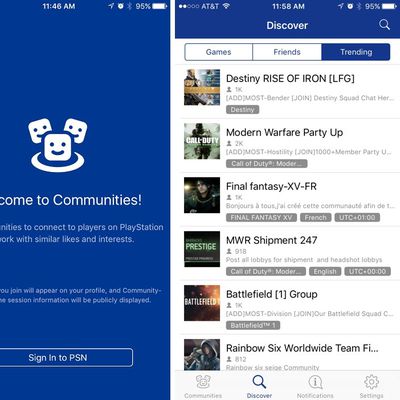 Sony has released a new PlayStation Communities iOS app that allows players to interact with fellow PS4 gamers from their Apple phones and tablets. The app works much like a forum portal: Players using the app can search for, join, and interact with groups, where they can post messages and images on a community wall. Members can stick to chatting about gaming or join groups to set up...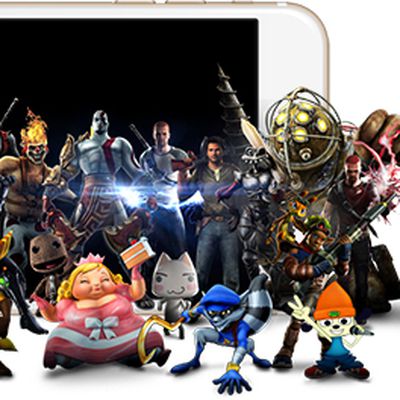 Sony today confirmed that it is working on creating more than five smartphone games for iOS and Android, all expected to launch before March 2018 (via CNBC). The games will be created through Sony's ForwardWorks subsidiary, which it formed earlier in March of this year as a way to craft "full-fledged game titles" for smartphones. At the time of that announcement, the company hadn't detailed...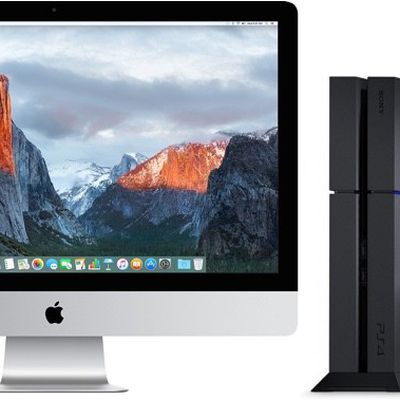 Sony today announced plans to bring the PlayStation 4's Remote Play capabilities to the PC and Mac through an update that will be released tomorrow. With the update, PS4 owners will be able to play games remotely through a PC or a Mac. Remote Play is a feature that lets the PlayStation 4 send audio and video to a peripheral device, but it was previously only compatible with Sony's handheld...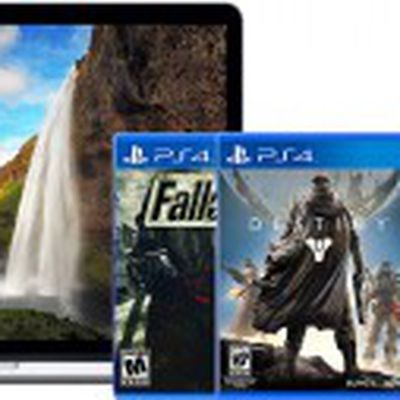 Sony has announced that its forthcoming Remote Play app for streaming PlayStation 4 games on Mac or Windows PC will be available "soon." PlayStation 4's latest 3.50 system software update launches in beta tomorrow, but Sony says the Remote Play functionality will not be available in the beta. Last November, Sony executive Shuhei Yoshida tweeted that it is working on an official Remote Play app ...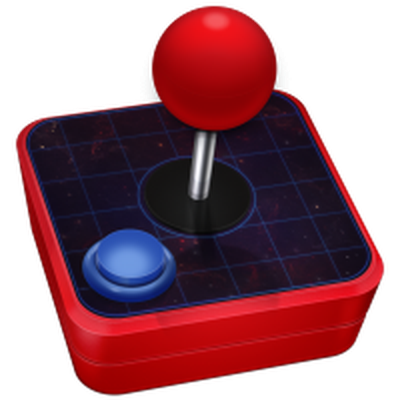 OpenEmu, an open source retro and arcade game emulator for OS X, has been updated to version 2.0.1 with support for 16 additional gaming systems, including Nintendo 64, Sony PlayStation 1 and PSP, ColecoVision, Intellivision and others listed below. OpenEmu 2.0.1 also features a redesigned user interface, real-time gameplay rewinding, save states and screenshots organizers, automap support for ...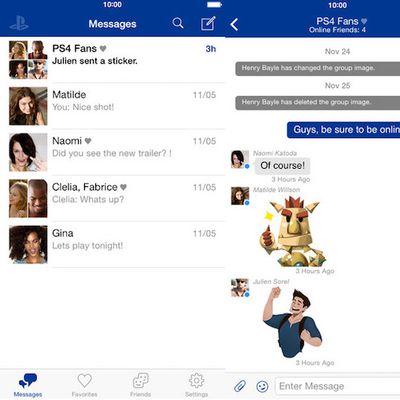 Shortly after its PlayStation Experience 2015 event in San Francisco this weekend, Sony has released a brand new app called PlayStation Messages, which allows PlayStation 4 owners to chat with their friends on the go. While the standard >PlayStation app had built-in messaging functionality, it's been split into its own app like how Facebook did with Facebook Messenger. The app allows...