MacBook Air Buyer's Guide: Comparing the Generations
Apple's MacBook Air has undergone major changes in recent years, with several significant generational improvements – making it all the more important to consider if now is a good time to upgrade or even if an older model will suffice for your needs.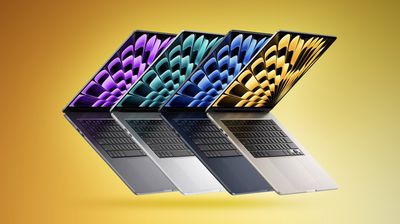 In 2022, Apple introduced a substantial refresh for the ‌MacBook Air‌ featuring a complete redesign and the M2 chip. One year later, it added a variant of the same machine with a larger, 15-inch display. Both the 2018 and 2020 Intel-based ‌MacBook Air‌ models have been discontinued. Apple still sells a ‌MacBook Air‌ with this design, the 2020 model with the M1 chip starting at $999 – the cheapest ‌MacBook Air‌ available from the company today, and even lower prices may be found with third-party retailers or second-hand. In terms of the latest models, the 13-inch ‌M2‌ ‌MacBook Air‌ starts at $1,099, while the 15-inch ‌M2‌ model starts at $1,299.
See the breakdown below for each new feature, change, and improvement that was added with each ‌MacBook Air‌ model since 2018 compared to its direct predecessor:
MacBook Air (M2, 2022/2023)
Thinner design with flat lid, rounded bottom edges, and uniform thickness
13.6- or 15.3-inch Liquid Retina display
Apple ‌M2‌ chip
Up to 10-core GPU
Hardware-accelerated H.264, HEVC, ProRes and ProRes RAW
ProRes encode and decode engine
Up to 24GB unified memory
100GB/s memory bandwidth
500 nits brightness
1080p FaceTime HD camera
Four-speaker sound system or six-speaker sound system with force-cancelling woofers
3.5mm headphone jack with support for high-impedance headphones
Bluetooth 5.3
MagSafe 3
Fast-charge capable with available 70W USB‑C Power Adapter
Available in Silver, Space Gray, Starlight, and Midnight
1.24 kg (2.7 pounds) or 1.51 kg (3.3 pounds)
MacBook Air (M1, 2020)
Apple ‌M1‌ chip
8-core CPU
Up to 8-core GPU
Media engine
Hardware-accelerated H.264 and HEVC
Video decode engine
Video encode engine
16-core Neural Engine
Up to 16GB unified memory
62.5GB/s memory bandwidth
Wide colour (P3)
Image signal processor with computational video
Up to 18-hour battery life
MacBook Air (Intel, 2020)
Up to Intel Core i7 processor
Intel Iris Plus Graphics GPU
Up to 2TB storage
Magic Keyboard
Bluetooth 5.0
1.29 kg (2.8 pounds)
MacBook Air (Intel, 2018)
Tapered "wedge" design
13.3-inch Retina display
Up to Intel Core i5 processor
Up to 4-core CPU
Intel UHD Graphics 617
Up to 16GB memory
Up to 1.5TB storage
Butterfly Keyboard
400 nits brightness
Full standard colour (sRGB)
720p ‌FaceTime‌ HD camera
Stereo speakers
3.5mm headphone jack
802.11ac Wi‑Fi 6
Bluetooth 4.2
Up to 12-hour battery life
Available in Silver, Space Gray, and Gold
1.25 kg (2.75 pounds)
While the ‌M1‌ ‌MacBook Air‌ is ostensibly good value for money at $999 and can be found even cheaper with education pricing and elsewhere via third-party retailers, it is notable that the ‌M2‌ 13-inch ‌MacBook Air‌ is now just $1,099. 2018 or 2020 Intel ‌MacBook Air‌ users will still benefit from upgrading to the ‌M1‌ ‌MacBook Air‌, but given that it is only $100 cheaper than the ‌M2‌ model – they are much better off upgrading to the latest model. $100 is a comparatively small price to pay for a much newer machine with a more modern design, the ‌M2‌ chip, a larger and brighter display, faster memory, a 1080p camera, better speakers, ‌MagSafe‌ 3, fast-charging, and more.

Most ‌M1‌ ‌MacBook Air‌ users will still stand to benefit from upgrading to the ‌M2‌ model, especially if they are looking for a bigger screen and opt for the 15-inch model, but some will be better off waiting for the next major refresh. Apple is already rumored to be working on new MacBook Air models featuring the M3 chip for release in 2024, sporting substantial performance and efficiency improvements.