Mac Studio Buyer's Guide: Comparing the Generations
Little over a year since its introduction in 2022, Apple refreshed the Mac Studio, adding the M2 Max and ‌M2‌ Ultra chips, so should you upgrade from the first- to the second-generation model? Likewise, is it still worthwhile buying the original ‌Mac Studio‌?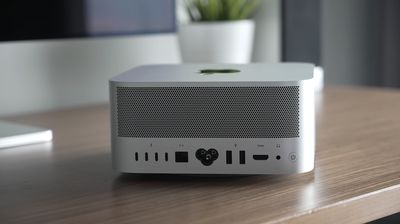 The new ‌Mac Studio‌'s main upgrade is its chip, moving from the M1 Max and M1 Ultra to the ‌M2‌ Max and ‌M2‌ Ultra. Compared to their predecessors, the ‌M2‌ Max and ‌M2‌ Ultra feature a more powerful CPU that is 20 percent faster, a larger GPU that is up to 30 percent faster, and a Neural Engine that is up to 40 percent faster. The new chips also allow for larger amounts of memory, additional external displays, and newer Wi-Fi and Bluetooth specifications.
See the breakdown below for each new feature, change, and improvement that was added with the latest ‌Mac Studio‌ compared to the original model:
Mac Studio (Second-Generation, 2023)
Apple ‌M2‌ Max or ‌M2‌ Ultra chip
Up to 24-core CPU
Up to 76-core GPU
Up to 192GB unified memory
HDMI 2.1 port
Support for up to eight 4K displays, six 6K displays, or three 8K displays
802.11ax Wi-Fi 6E
Bluetooth 5.3
Mac Studio (First-Generation, 2022)
Apple ‌M1 Max‌ or ‌M1 Ultra‌ chip
Up to 20-core CPU
Up to 64-core GPU
Up to 128GB unified memory
HDMI 2.0 port
Support for up to four Pro Display XDRs and one 4K display
802.11ax Wi-Fi 6
Bluetooth 5.0
For most current ‌Mac Studio‌ users, it will likely not be worth upgrading to the new model. It is only worth upgrading if you need more than 128GB of memory, or can take advantage of the four additional CPU cores and 12 additional GPU cores of the ‌M2‌ Ultra chip. Similarly, if you need to use more than four 6K external displays or even utilize an 8K external display, the new model unlocks these capabilities. Many of these improvements will only be directly relevant to a very small number of users. Wi-Fi 6 and Bluetooth 5.3 are simply specification improvements and while they may offer minor benefits in specific instances and make the new ‌Mac Studio‌ more future-proof, they are not must-have upgrades.
On this basis, if you currently do not have a ‌Mac Studio‌, it may still be worth buying the original model if you can find it for a substantially lower price with a third-party retailer or second-hand. The original model still offers outstanding performance that is better than the vast majority of Macs, with almost all of the same ports and connectivity as the new model.