Flexibits
By MacRumors Staff
Flexibits Articles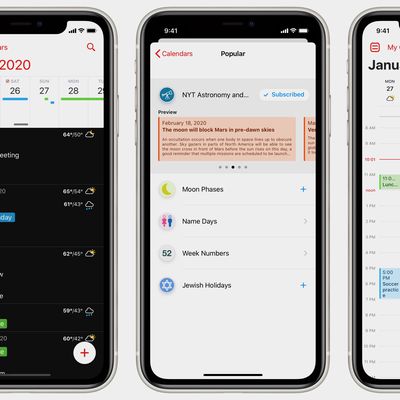 Flexibits today updated its popular Fantastical calendar app with some notable changes and improvements, including cursor support for iPads. With the release of iPadOS 13.4, Apple introduced mouse and trackpad support for its tablets, and Fantastical has been updated to take full advantage, enabling users to navigate the interface and edit calendar entries using a cursor. Version 3.0.9 of ...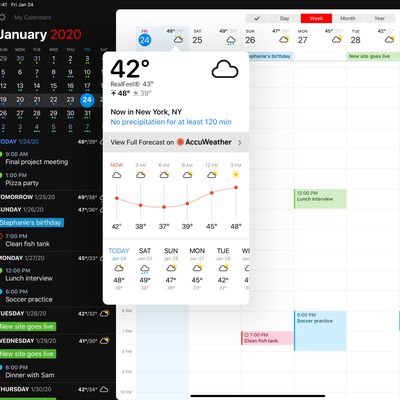 Flexibits today is launching version 3.0 of its popular Fantastical calendar app, bringing a host of improvements across all platforms including Mac, iPhone, iPad, and Apple Watch. Along with all of the feature updates, Fantastical is transitioning to a premium subscription model that unlocks access across all devices and will provide continued feature additions and improvements on an ongoing...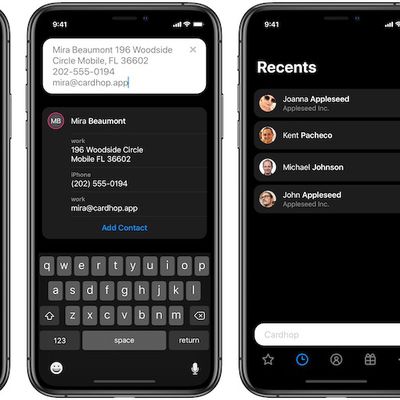 A year and a half ago, Flexibits branched out from its popular calendar app Fantastical to debut Cardhop, an intuitive contacts management app for macOS. Cardhop took Apple's Contacts to the next level, offering a smart input field that intelligently parses the text you're typing and figures out what you want to do. Customizable quick actions let you easily perform tasks related to your contacts, ...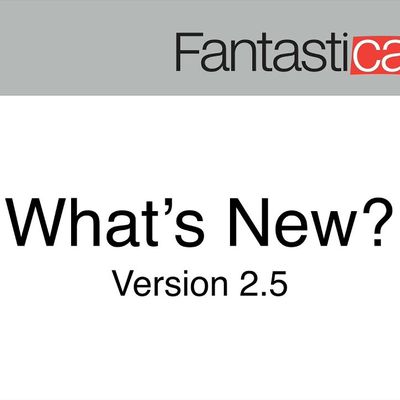 Popular Mac calendar app Fantastical 2 was today updated to version 2.5, introducing a number of important changes that Fantastical users have been asking for. The updated app includes support for sending and receiving time proposals on Exchange, iCloud, Google, and other CalDAV accounts, which means users that are sent an invite and need to offer up an alternate time can click the new option...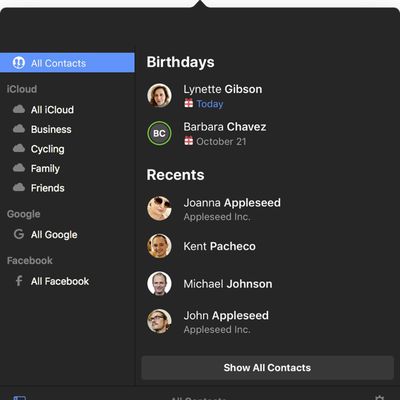 Flexibits, the company that makes popular calendar app Fantastical, today launched a new contacts management app, Cardhop. Designed to be more than just a simple contacts app, Cardhop is interactive and is designed to be your communications hub, allowing you to email, message, and interface with your contacts from one central location. When developing Cardhop, Flexibits aimed to do the same...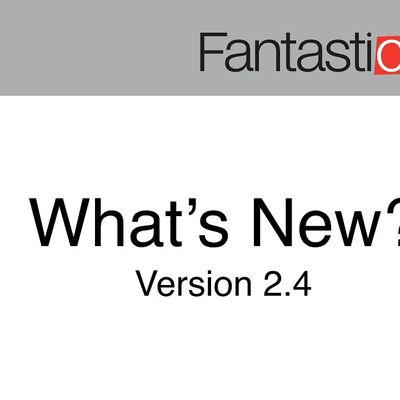 Flexibits today debuted Fantastical 2.4 for Mac, which the company says is the biggest Fantastical update since Fantastical 2 for Mac was introduced. Today's update, which is free for all existing users, introduces everything from attachments to travel time to undo and redo tools. Attachments, one of the most notable new features in Fantastical 2 for Mac, can be viewed, edited, and created on...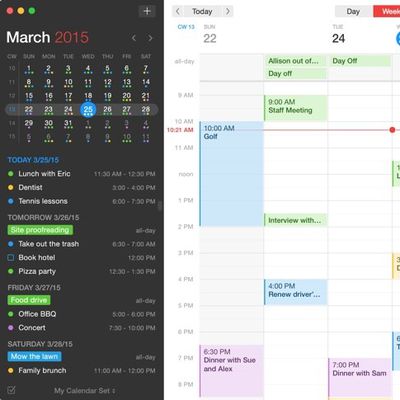 We're doing a series of holiday giveaways ahead of Christmas, and for today's giveaway, we've teamed up with Flexibits to offer MacRumors readers a chance to win a copy of Fantastical 2 for Mac. Fantastical is one of the most popular calendar apps in the Mac App Store, with a clean, easy-to-use layout and the ability to use natural language like "lunch with Eric at 2:00 p.m. on Thursday" to...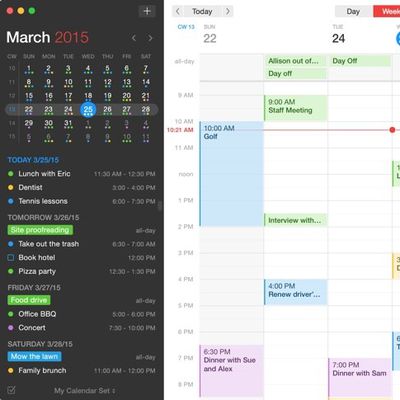 Popular calendar app Fantastical 2 for Mac was today updated with a long list of new features, introducing a multitude of small but significant changes. The new version of the app includes Exchange support with native account syncing so Exchange users can respond to invitations and use availability lookup, categories, and people lookup. With the new availability feature, enabled through a...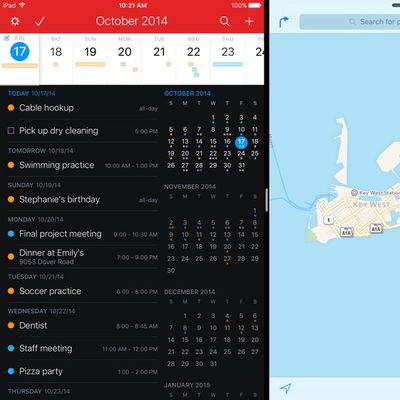 Flexibits today updated its popular Fantastical 2 apps for the iPad, iPhone, and Apple Watch with support for a range of iOS 9 and iPhone 6s features. Fantastical 2 for iPad now includes split-screen multitasking support, letting it be used simultaneously with other apps with iOS 9's Slide Over and Split-View multitasking modes. With Slide Over, users can pause one task to access their...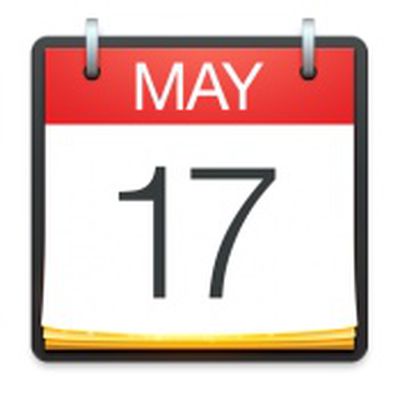 Fantastical 2 for Mac received a significant update today, adding support for OS X El Capitan and several interface tweaks to improve the Fantastical for Mac experience. Today's 2.1 update adds a huge list of new features that were requested by Fantastical 2 users since the app first launched in March. For users running OS X El Capitan, it's now possible to swipe an event in a list to delete...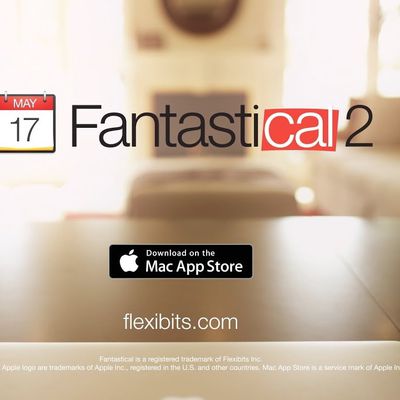 Flexibits launched Fantastical 2 for the Mac this morning, the long-awaited update to its popular calendar app for the Mac. To celebrate the launch, Flexibits has teamed up with us to offer 25 MacRumors readers a chance to win a Fantastical bundle that includes a copy of the new Fantastical 2 for Mac app, a copy of Fantastical 2 for iPad, and a copy of Fantastical 2 for iPhone. If you're not...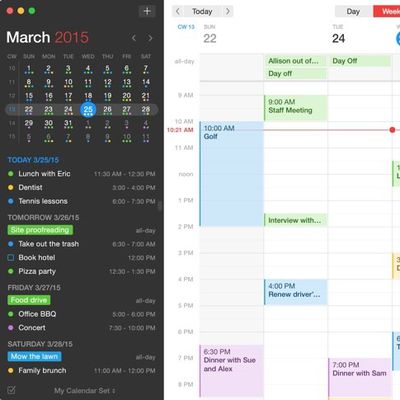 Flexibits today launched the much-anticipated Fantastical 2 for Mac, a completely new app that overhauls the existing Fantastical for Mac app and introduces a long list of new features. Flexibits CEO Michael Simmons spoke with MacRumors about the new Fantastical 2 update for Mac, and he told us that while the original Fantastical app reinvented calendar apps, the new update reinvents Fantastica...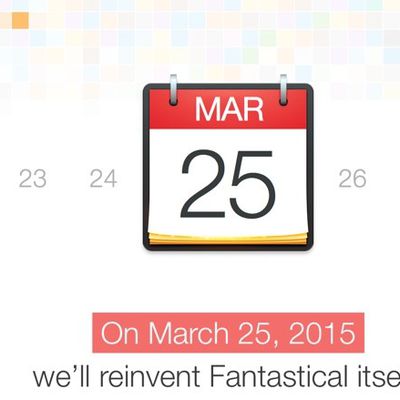 Flexibits, the developers behind the popular line of Fantastical calendar apps for iOS and Mac, today posted a teaser revealing the launch date of Fantastical 2 for Mac, which is going to be released on March 25. Fantastical 2 for the iPhone and the iPad have been available since 2013, but Fantastical for Mac, first released in 2011, has yet to receive a major 2.0 update. Flexibits has not...