Popular calendar app Fantastical 2 for Mac was today updated with a long list of new features, introducing a multitude of small but significant changes. The new version of the app includes Exchange support with native account syncing so Exchange users can respond to invitations and use availability lookup, categories, and people lookup.
With the new availability feature, enabled through a calendar service like Exchange, Google Apps, or OS X Server, Fantastical 2 users can quickly check their colleagues' availability and schedules to expedite the process of setting up meetings and appointments. For Google Apps users, there's an option to load Google Hangouts links for group meetings and there's support for push updates and Google Contact search when adding invitees.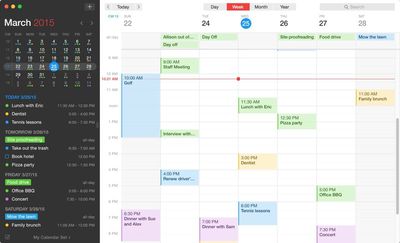 Printing is now available and there are multiple layout options available for printing calendar schedules. Users can choose a specific calendar to print and choose whether to show all-day events, timed events, or both. There are also options for calendar keys, black and white printing, and a mini calendar at the upper right of the page. Daily, monthly, weekly and yearly calendars are available to print, letting users share a hard copy of their schedules with others.
Other important new features include iCloud shared calendar notifications, an extra time zone line to let users view other time zones when scheduling an event, multiple selection to move or delete multiple items at one time, and a new option to start week or month views on the current day or week.
"We launched Fantastical 2 for Mac one year ago, and our goal was to reinvent Fantastical itself," said Michael Simmons, Co-founder of Flexibits. "Today's update is the biggest we've ever shipped and we think our users are going to love it."
There are several other feature additions, bug fixes, and improvements to the Fantastical 2 app, which should improve performance for all users.
Fantastical 2 can be downloaded from the Mac App Store for $49.99. [Direct Link]