'Fantastical 2' Launches for Mac With Yosemite-Style Redesign, Full Calendar Window
Flexibits today launched the much-anticipated Fantastical 2 for Mac, a completely new app that overhauls the existing Fantastical for Mac app and introduces a long list of new features.
Flexibits CEO Michael Simmons spoke with MacRumors about the new Fantastical 2 update for Mac, and he told us that while the original Fantastical app reinvented calendar apps, the new update reinvents Fantastical. The Flexibits team took everything they learned from Fantastical 2 for iOS and brought it over to the Mac.
To begin with, Fantastical 2 has been designed from the ground up to fit in with the Yosemite aesthetic, adopting a flat design, simple outlines, cleaner fonts, and brighter, bolder colors with two available color themes. It's also adopted many Yosemite-only features like a Notification Center widget, Handoff, and Action and Share Extensions.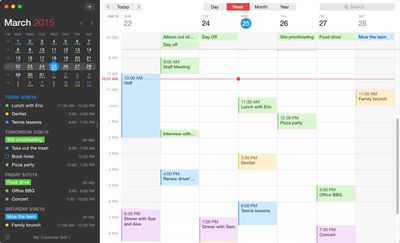 The biggest change to Fantastical 2 is the introduction of a full calendar window. The original Fantastical Mac app was housed in the Mac's menu bar in a mini window, forcing users to open the built-in Calendar app if they needed access to a desktop calendar, but Fantastical 2 is a full-featured calendar app that combines that original menu bar calendar with a complete calendar window.
The new calendar window includes Day, Week, Month and Year views on the right, along with a left-hand menu bar that shows the current month and a list of upcoming tasks. Reminders and events are separated in the new version of Fantastical, and a toggle button at the bottom of the calendar window will switch the view from events to a list of reminders. Reminders can be added to Fantastical by prefacing entries with "todo," "task," or "reminder," and can be location-based with dates and time information attached.
Fantastical 2 continues to offer the same menu bar mini calendar window (now re-positionable), featuring the new design and the same toggle to switch between a list of upcoming events and a list of reminders. There's also a new Notification Center widget that displays a list of events for the day.
In addition to offering existing features like natural language parsing, deeply customizable alerts, automatic alarms, Reminder integration, and quick search tools,
Fantastical 2
for Mac adds a powerful feature called Calendar Sets. Most people use several calendars with
Fantastical
, and with the new Mac app, it's possible to group different calendars into separate sets and switch between them using an easily accessible toggle at the bottom of the calendar window.


With Calendar Sets, work calendars and home calendars can be grouped together, and it's even possible to add geofencing to have calendar sets swap automatically depending on your physical location. Fantastical 2 for Mac also includes Japanese support for the first time, with full Japanese-language parsing, a feature that's also coming to iPhone and iPad in the next few months. It's also fully localized in English, French, German, Italian, and Spanish. The app's language parsing engine is more robust, better understanding repeating events and offering more options for adding alerts.

Fantastical 2 for Mac's natural language parsing engine has been updated to be even more friendly and flexible. The parsing engine now understands expressive repeating events such as third Thursday of every month, every weekend, last weekday of the month, and more. Plus, users can now add alerts by ending their natural language input with phrases such as "remind me tomorrow at 3PM", "alert 1 hour before", or "alarm 3PM."
Fantastical 2 for Mac is Yosemite-only because it incorporates several Yosemite features. When a user has an iPhone or an iPad with Fantastical for iOS installed, it's possible to switch off between the iOS and Mac versions of the app with Handoff. With the new extensions, it's possible to highlight text in Safari, for example, and send it automatically to Fantastical with a link, or to add events directly from within apps like Evernote.
Fantastical 2, which is an all-new app, can be downloaded from the Mac App Store beginning today for $39.99. The app will be priced at $49.99 in the future, but it's currently being offered at a discount to celebrate its launch. [Direct Link]