Flexibits, the developers behind the popular line of Fantastical calendar apps for iOS and Mac, today posted a teaser revealing the launch date of Fantastical 2 for Mac, which is going to be released on March 25.
Fantastical 2 for the iPhone and the iPad have been available since 2013, but Fantastical for Mac, first released in 2011, has yet to receive a major 2.0 update. Flexibits has not shared information on the release aside from a launch date, but the logo shared on the website points towards a Yosemite-style redesign.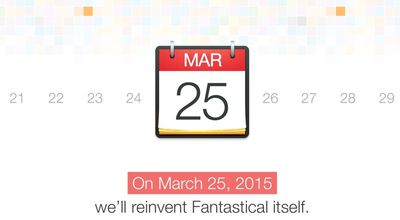 On May 17, 2011, we reinvented calendaring. On March 25, 2015, we'll reinvent Fantastical itself.
Fantastical is one of the more popular calendar options, due to its cross-platform availability and its incorporation of natural language for scheduling events. It's possible, for example, to write something as simple as "Meeting with Eric at 4 p.m. tomorrow" and have the event properly scheduled within the app.
Fantastical integrates with both the iOS Calendar app and the iOS Reminders app, putting event details and to-do lists in one easily accessible spot. It also works with iCal, BusyCal, Outlook, and Entourage, and it includes CalDAV support for use with Google Calendar and Yahoo Calendar. Other features include geofencing, built-in maps, and reminders.
Users can sign up to be notified when Fantastical 2 for Mac launches by entering their email addresses on the Flexibits website.