Apple Considered Making DuckDuckGo Default Search Engine in Safari Private Browsing Mode
Back in 2018, Apple held talks with DuckDuckGo to replace Google as the default search engine in private browsing mode, but ultimately rejected the idea, according to transcripts unsealed by the judge overseeing the US government's antitrust trial against Google in Washington.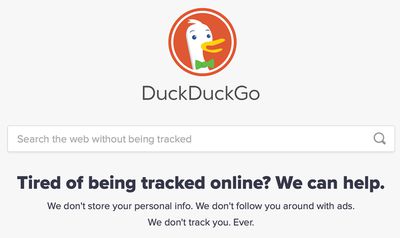 Testifying in closed sessions, DuckDuckGo CEO Gabriel Weinberg said that his company had about 20 meetings and phone calls with Apple executives, including the head of Safari, in 2018 and 2019 about becoming the default search engine for private browsing mode.
According to Bloomberg, Apple did not move forward with the deal because John Giannandrea, who joined Apple as head of search in 2018, assumed that since DuckDuckGo relies on Bing for its search information, it also likely provides Microsoft some user information.
That led Giannandrea to believe that DuckDuckGo's privacy marketing is "somewhat incongruent with the details." In a February 2019 email to other Apple executives, Giannandrea said it was therefore "probably a bad idea" to switch to DuckDuckGo for private browsing in Safari.
If Apple seriously wanted to switch to DuckDuckGo, "I would probably insist on doing a lot more due diligence with DuckDuckGo," he said.
The trial is between the U.S. Department of Justice and Google, with the DoJ pointing toward Google's dominance on Apple devices as evidence that Google has a search engine monopoly. A multi-billion dollar deal between Apple and Google sees that Google is set as the default search engine on the iPhone, iPad, and Mac.
Last week the trial revealed that Microsoft considered selling its Bing search engine to Apple. Had the acquisition happened, Bing would have replaced Google as the default search engine on Apple devices.
Apple's services chief ‌Eddy Cue‌ also had to testify, and he explained why Google is the ‌iPhone‌'s default search engine. "We make Google be the default search engine because we've always thought it was the best," Cue said. He went on to say that Apple has not gone with another search engine provider because there is no "valid alternative."
While Google is the default search engine on Apple devices, users can choose to swap to Yahoo, Bing, DuckDuckGo, or Ecosia as an alternative.