Belkin 3-in-1 Chargers Stop Working for Some Customers
Belkin's 3-in-1 BoostCharge wireless chargers with MagSafe compatibility seem to have stopped working for some customers, with several complaints surfacing on the MacRumors forums and Reddit.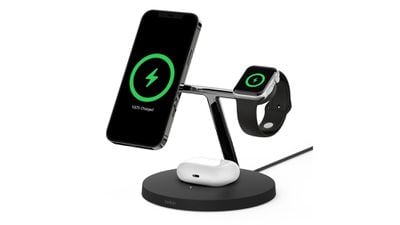 According to affected users, some Belkin chargers are not able to recognize or charge an iPhone, even though the charger works fine for AirPods and the Apple Watch. Unplugging the charger and plugging it in again can work in some cases to force charging, but customers suggest that this is only a temporary fix. From the MacRumors forums:
There have been a number of instances where I have an Apple Watch (Ultra) connected and charging then put on my iPhone in Apple Official Leather Case (Dark Green if anyone is interested) but it doesn't recognise the phone, no animation on the screen like usual and no charge.

I have also tried this with no Apple Watch, AirPods on or off the bottom charge section and the iPhone still won't charge. The only way I can get it to work is to unplug the charger, wait around 10 seconds and plug it back in. Then the phone vibrates, screen animation plays and the charging starts.
There are two versions of Belkin's BoostCharge wireless charger with ‌MagSafe‌ integration, one that has a standard Apple Watch charger and one with a fast charge Apple Watch charger. It appears that both models could potentially be affected. and there are also some reports from customers who have the 2-in-1 ‌MagSafe‌ charger from Belkin.
Reports about issues with the Belkin chargers started in August, and several customers have contacted Belkin support and have been told that Belkin is aware there is an issue.
We identified an issue with the MagSafe wireless charger for the phone, and our engineering team is already aware of the issues reported by our customers and is currently investigating it."
A customer on Reddit was told that a resolution would be available "in the coming weeks," but that was 21 days ago and it does not appear that the issue has been addressed as of yet. Some customers have been able to have their chargers replaced under warranty, or have been able to receive refunds from the point of purchase.
Devices that are not charging include the iPhone 14 models, but not all Belkin chargers appear to be affected.
A similar issue impacted the Mophie 3-in-1 Travel Charger with ‌MagSafe‌ back in July, and Apple pulled it from the Apple Store temporarily amid complaints. The Belkin charger has not been removed from the ‌Apple Store‌ at this time. Mophie was ultimately able to fix the issue with a firmware update kit.