'iPhone 15 Ultra' Could Still Replace 'Pro Max' Model This Year
Apple's upcoming high-end 6.7-inch iPhone 15 model may be called the "‌iPhone 15‌ Ultra" after all, replacing the "Pro Max" title, a new rumor claims.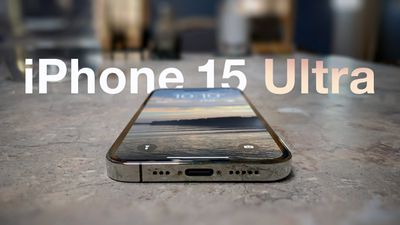 In a September 2022 edition of his weekly "Power On" newsletter, Bloomberg's Mark Gurman said there was "potential" for an iPhone 15 Ultra to replace the iPhone 15 Pro Max this year. While the name change was prevalent in several rumors from influential sources like Apple analyst Ming-Chi Kuo in late 2022 and early 2023, the idea has since faded and emphasis has shifted to Apple releasing such a model as a new high-end device next year instead. Now, AppleInsider's Andrew O'Hara claims that the "‌iPhone 15‌ Ultra" name is back:
Here's a late Friday tidbit I've heard for #iPhone15. Multiple sources have told me Apple will indeed use the "iPhone 15 Ultra" monicker for the plus-sized pro phone. This was an early rumor that got backpedaled. Most have since referred to it as iPhone 15 Pro Max. — Andrew O'Hara (@Andrew_OSU) August 19, 2023
O'Hara does not have much of a track record for Apple rumors, but he did share accurate renders of the second-generation AirPods Pro before they launched last year. With its larger display, longer battery life, and periscope telephoto camera with 6x optical zoom, the top-tier iPhone could justify the "Ultra" moniker.
Apple's naming choices are subject to change throughout a product's development process, often explaining why new devices are titled differently to what rumors have come to suggest. For example, the AirPods Max were largely expected to be called the "AirPods Studio." Most recently, visionOS was widely expected to be called "xrOS." The rumored name was found littered throughout Apple's materials following WWDC, indicating that ‌visionOS‌ was a last-minute switch. Whether Apple will change the name of its "Pro Max" model this year is unknown, but the idea was likely under consideration at minimum and could still be on the table.