'Ridiculous Fishing EX' Now Available on Apple Arcade
Popular iOS game Ridiculous Fishing is now available on Apple Arcade, allowing Apple Arcade subscribers to re-experience Vlambeer's classic 2013 title.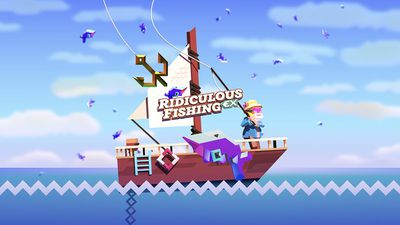 Ridiculous Fishing tasks players with casting a line as deep as possible then using tilt-based gestures to grab as many fish as possible. Players take on the role of a fisherman named Billy, who has some unorthodox ideas about fishing. Catching fish unlocks additional levels and new items to purchase.
The game has been rebuilt from the ground up for ‌Apple Arcade‌, and it features new 3D art, a new Pro Fishing Tour endgame mode, new guest fish, leaderboard support, and other new content.
The developers behind Ridiculous Fishing have created some of the most popular and well-known iOS games, including Super Crate Box, SpellTower, Card of Darkness, Threes, Hundreds, and more.
Several other ‌Apple Arcade‌ games are also receiving new content updates today, with additional functionality coming to Jetpack Joyride 2, Zookeeper World, SpongeBob: Patty Pursuit, Simon's Cat, Solitaire Stories, Farmside, and Angry Birds Reloaded.
Apple Arcade is Apple's subscription gaming service, offering hundreds of iPhone, iPad, and Apple TV games for $4.99 per month. Apple adds new games to ‌Apple Arcade‌ regularly, and the subscription fee allows all members of a Family Sharing group to use the service.