Porsche's Clever New App Integration Lets You Control Vehicle Functions From CarPlay Ahead of Apple's Next-Gen Revamp
Porsche today announced an updated My Porsche App that adds new vehicle functionality to the CarPlay experience in Porsche vehicles. With the app integration, audio, climate, comfort, lighting, and entertainment functions can be controlled directly in ‌CarPlay‌.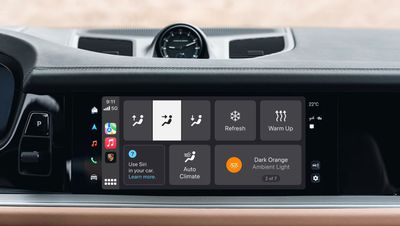 According to Porsche, car owners can use the combined My Porsche App and ‌CarPlay‌ feature to do things like change radio stations, control the in-car temperature, and adjust the lighting. The car model shows up through ‌CarPlay‌, and there are wellness modes like "relax," "warm up," and "refresh" that can be activated using the ‌CarPlay‌ quick actions feature.
All of the available vehicle functions can be controlled using Siri voice commands for hands-free adjustments when driving.
Porsche owners can activate the feature by scanning a QR code displayed in the PCM, and new ‌CarPlay‌ functions will be made available to Porsche owners as they are developed. The first vehicle to support the new My Porsche App and ‌CarPlay‌ integration is the Porsche Cayenne, which is available now. The updated app will be rolled out to other model lines in the future.
Note that while Porsche is using a clever app integration to allow for vehicle functions to be controlled through ‌CarPlay‌, this is not the next-generation ‌CarPlay‌ experience that Apple has in development.
Apple last year previewed a range of new CarPlay functions that are in the works, including multi-screen support and ‌CarPlay‌ controls for vehicle functions. The next-generation ‌CarPlay‌ will be available only in new vehicles, and the first that support the updated ‌CarPlay‌ experience are expected later this year.