Rumor Recap: What to Expect From the iPhone 15's USB-C Port
All four iPhone 15 models launching later this year are expected to feature a USB-C port instead of Lightning. This change means the iPhone will support a more universal charging standard, benefit from faster data transfer speeds, and more.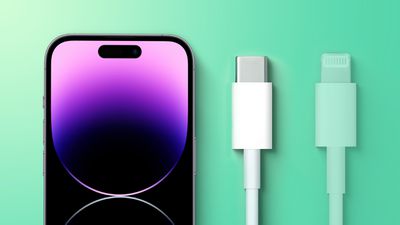 Below, we have recapped rumors about the iPhone switching to USB-C, including potential speed differences, other Apple accessories adopting USB-C, and more.

Speed Differences
While all iPhone 15 models are expected to have a USB-C port, only the Pro models will support at least USB 3.2 or Thunderbolt 3 for faster data transfer speeds up to 40 Gbps, according to Apple supply chain analyst Ming-Chi Kuo. He expects the iPhone 15 and iPhone 15 Plus to remain limited to USB 2.0 speeds of up to 480 Mbps like Lightning.
iPad Pros gained Thunderbolt 3 support in 2021, while the USB-C port on the latest iPad Air is capable of up to 10 Gbps transfer speeds.

Made for iPhone Optimizations
Apple plans to optimize the fast-charging performance of chargers certified under its "Made for iPhone" program on iPhone 15 models, according to Kuo. Uncertified cables will allegedly have limited charging and data transfer speeds. It's worth noting that Apple does not limit uncertified cables for iPads with USB-C ports, so this would be a different approach with the iPhone if this rumor proves to be accurate.

Apple Accessories Moving to USB-C
With the iPhone 15 switching to USB-C, several Apple accessories are expected to follow suit:
The latest Siri Remote for the Apple TV already features a USB-C port.
Apple is expected to announce the iPhone 15 series in September. Many more changes are rumored for the Pro models, including a titanium frame, faster A17 Bionic chip, thinner bezels around the display, Wi-Fi 6E support, and more.