Microsoft Planning Privacy-Focused Version of ChatGPT as Apple AI Efforts Flounder
Microsoft is planning to launch a privacy-focused version of ChatGPT amid Apple's apparent lack of grip on emerging AI technologies, The Information reports.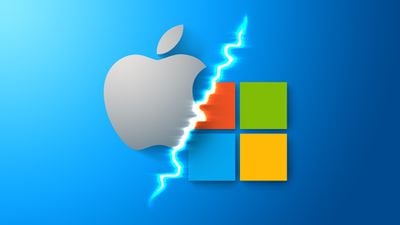 Microsoft's Azure cloud server unit plans to offer a version of ChatGPT that runs on dedicated cloud servers where the data is kept separate from that of other customers later this quarter. Data on this isolated server will not communicate with the main ChatGPT system to preserve privacy. The service could cost as much as 10 times more than what customers currently pay to use ChatGPT.
The move seeks to appeal to businesses, such as banks, financial services, and healthcare institutions, who have avoided adopting ChatGPT out of fear that their employees could inadvertently give the chatbot sensitive proprietary information. Bloomberg's Mark Gurman today reported that Samsung has banned employee use of generative AI utilities like ChatGPT after the discovery that staff had uploaded sensitive source code to the platform. The company is said to be concerned that data transmitted to artificial intelligence platforms including Bing and Google Bard could end up being disclosed to other users.
OpenAI has already sold Morgan Stanley a private ChatGPT service that does not involve Microsoft. The bank's wealth management division is already using the service to allow employees to ask questions and analyze content in thousands of the bank's market research documents.
Microsoft salespeople are said to already be fielding inquiries from organizations about the forthcoming product. Many large customers, including banks, have existing contracts with Azure, which could prove advantageous in persuading them Microsoft will manage their data securely.
Last week, it emerged that Siri and Apple's AI efforts have been severely hamstrung by organizational dysfunction and a lack of ambition. Many Apple employees purportedly left the company because it was too slow to make decisions or too conservative in its approach to new AI technologies, including the large-language models that underpin chatbots like ChatGPT.
Microsoft's latest move seemingly leapfrogs Apple to offer a privacy-focused AI chatbot in a ringfenced environment. Apple's uncompromising stance on privacy and insistence on a high level of control over its products and services has reportedly created considerable challenges for enhancing ‌‌Siri‌ and the company's investment in AI technologies‌.
Apple has pushed for an increasing number of ‌Siri‌'s functions to be performed on-device and the company apparently prefers ‌its responses to be pre-written by a team of around 20 writers, rather than AI-generated, to maximize privacy and control. This has seemingly left the company out of the AI chatbot race, allowing Microsoft to flaunt Apple's preferred privacy credentials in the AI arena.