Apple Shares 2023 Environmental Progress Report Ahead of Earth Day
Apple today published its 2023 Environmental Progress Report, setting out the company's ongoing efforts to combat climate change and reduce its impact on the environment ahead of Earth Day on April 22.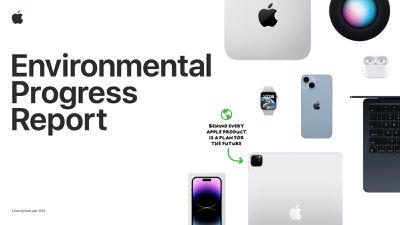 The report explores Apple's chemical research, recycling and device recovery operations, energy efficiency improvements and use of renewable energy, reduction of waste, support of community action, and more as part of its ongoing goal to reach net-zero carbon emissions by 2030. It also draws attention to Apple's recent announcement that it plans to accelerate the transition to recycled materials across its devices.
In addition, Apple highlighted its individual Product Environmental Reports, which break down the environmental impact of any current Apple Watch, iPhone, iPad, Mac, external display, Apple TV, or HomePod with regards to source materials, manufacturing, packaging, shipping, use, and recovery. Apple vice president of environment, policy and social initiatives Lisa Jackson said:
This year, we've also made it easier to understand the carbon impact of your Apple devices, and the extraordinary steps we're taking to reduce their emissions. In our Product Environment Reports, you can learn about recycled gold in your iPhone, the energy demands of your iPad, and the packaging around your Mac. We're transforming so many aspects of the way we make our technology, and with our Product Environment Reports, you'll see where we've made progress and where the hard work remains.
Visit apple.com/environment or see the full PDF version of Apple's 2023 Environmental Progress Report for more information.