Apple Announces Plans to Accelerate Use of Recycled Materials in New Products
Apple today announced a "major acceleration" of its work to expand the use of recycled materials in its devices.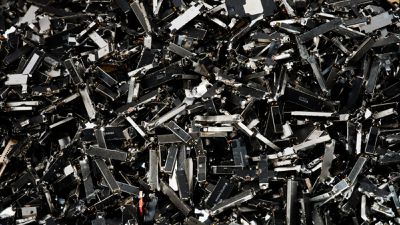 By 2025, Apple now aims to ensure that:
All Apple-designed batteries will use 100 percent recycled cobalt.
Magnets used in Apple devices will be made with 100 percent recycled rare earth elements.
All Apple-designed printed circuit boards will use 100 percent recycled gold plating and 100 percent recycled tin soldering.
The accelerated time frame comes thanks to a large number of changes the company made in recent years. For example, Apple's use of recycled materials for printed circuit boards was spearheaded by an exclusively recycled supply chain for gold in the plating of the main logic board for iPhone 13. Since then, it has increased the use of circuitry made with recycled materials in the iPad, Apple Watch, AirPods Pro, MacBook Pro, Mac mini, and HomePod. In 2022, a quarter of all cobalt found in Apple products came from recycled material, up from 13 percent in 2021, paving the way for the transition to 100 percent recycled cobalt by 2025.
In 2022, around 20 percent of all material shipped in Apple devices came from renewable or recycled sources. The company said that the change brings it closer to the aim of eventually making all products using only recycled and renewable materials and advances its goal to make every product carbon neutral by 2030.


Apple also flagged that its Material Recovery Lab in Austin, Texas have started using AR video projected directly onto work surfaces to show recycling partners how to disassemble devices. In addition, the company said that by 2025 it will completely eliminate plastics from its packaging. Following the adoption of fibre alternatives to screen films, wraps, and foam, 96 percent of Apple packaging is plastic-free. The company says it is now working to replace the labels, lamination, varnish, and other "small uses" that make up the remaining 4 percent.