iPhone 15 Pro Now Expected to Feature Two-Button Design for Volume, Mute Switch Still Replaced by Button
Apple has decided to make a last minute design update to the iPhone 15 Pro and ‌iPhone 15 Pro‌ Max, and the two devices will not feature the unified volume button that has been rumored for the last several weeks, according to Unknownz21. Instead, the ‌iPhone 15 Pro‌ models will have a two-button design for the volume module, which will look similar to the two-button design on the iPhone 14 Pro models.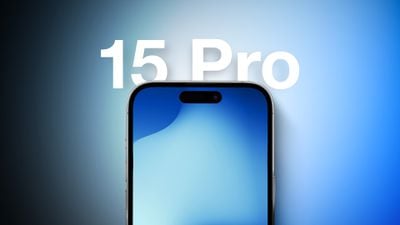 While Apple is planning to revert back to two buttons instead of the planned unified volume button, there will still be a change to the mute switch. Rather than a switch, Apple will use a physical button. Internally, this button has been referred to as the "ringer button" or the "action button," and rumors have suggested that it could be a customizable button that is similar to the Apple Watch Ultra Action button.
Up until earlier this week, Apple was still working on a unified, solid-state volume button that offered haptic feedback rather than a physical button mechanism. Apple abandoned the solid-state button design on Tuesday, and Apple analyst Ming-Chi Kuo says the change was due to "unresolved technical issues."
At the time, Kuo said that Apple would revert back to a "traditional physical button design," but it was not clear if Apple would continue to use the unified button that it had designed or if the company would swap back to a two-button design. Unknownz21's sources today learned that Apple will opt to revert to two buttons, delaying the unified button design until the iPhone 16 Pro.
Earlier today, MacRumors shared renders of what the ‌iPhone 15 Pro‌ models would have looked like with the unified volume button design. This is the design that Apple planned on using for most of the ‌iPhone 15 Pro‌ development period, and it is just this week that the change was made to shift back to the old design.
Unfortunately, we were working on these renders before we got the news about the solid-state button change, and we did not hear about Apple's revised plans for the buttons until after the renders were published. The renders we shared are now representative of the solid-state button design that Apple planned to use for the ‌iPhone 15 Pro‌, which will not be the final design.
The renders offer a look at what the design might have been had Apple stuck with solid-state technology, and they feature the button design that Apple is likely to adopt for the ‌iPhone 16 Pro‌ models. Though delayed for now, Apple is continuing to work on haptic buttons, and the company is expected to implement the technology in next year's Pro iPhone models.
Apple will use standard mechanical buttons for both the iPhone 15 and ‌iPhone 15 Pro‌ models, but as mentioned before, the mute button that is in the renders remains accurate. Apple is expected to use a mute button instead of a mute switch for the ‌iPhone 15 Pro‌ lineup. These design changes are able to be made because the devices are still in the Engineering Validation Test stage and have not reached final production.
Apple did create some ‌iPhone 15 Pro‌ models that have solid-state buttons and the volume button design that we shared, and these will be used internally for testing to ensure the technology is ready for the iPhone 16 lineup.
Renders, case makers' dummies, CADs, and other leaked information that has depicted a unified volume button is now out of date due to Apple's late design shift. Late stage design changes are unusual for Apple, but do happen when there are issues with a feature that can't be worked out in time for launch.
The AirPower, for example, was nixed entirely after Apple could not get it to work as intended. Back in 2011, there were widespread rumors of a teardrop design for the ‌iPhone‌ 5 that did not pan out after Apple went with a different design, and with the third-generation iPod touch, Apple added a camera during the design stages and then removed it from the final product.
There are a number of new features still rumored for the ‌iPhone 15 Pro‌ models, such as a titanium frame, a faster A17 chip, periscope lens technology (‌iPhone 15 Pro‌ Max only), thinner display bezels, and a USB-C port instead of a Lightning port.