NBA App Now Shows Live Scores on iPhone's Lock Screen and Dynamic Island
The official NBA app for the iPhone was updated last week with support for Live Activities, allowing live scores of games to be viewed at a glance.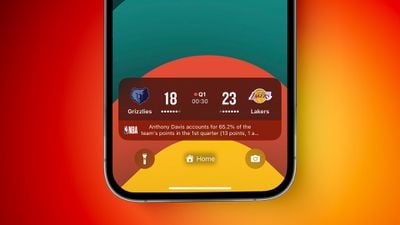 Live Activities is an iOS 16 feature that makes it easier to stay on top of real-time events, such as a sports game or a food delivery order. During an NBA game, a banner on the iPhone's Lock Screen shows the live score, quarter, time remaining, and other relevant information. The score is also shown in the Dynamic Island on iPhone 14 Pro models.
Apple's TV app already offered Live Activities support for NBA games, and now the functionality is available via the NBA app. The official MLB app was also updated with Live Activities support earlier this month, and it was announced last week that the NCAA March Madness app would be adding support for the feature as well. Other apps like Sports Alerts offer Live Activities integration for multiple sports leagues.
The Dynamic Island is rumored to expand to the standard iPhone 15 and iPhone 15 Plus models later this year. Users can long press the Dynamic Island to open an expanded view with additional information for Live Activities.
The NBA app is available on the App Store. Apple has allowed third-party apps to support Live Activities since iOS 16.1 was released in October.
Image Credit: @WonNationUnder