Apple Watch Ultra With MicroLED Display Again Rumored to Launch by 2025
A new Apple Watch Ultra with a microLED display will be released in 2024 or 2025, according to Taiwanese supply chain publication DigiTimes. The report claims that Apple plans to extend the technology to iPhones, iPads, and MacBooks too eventually.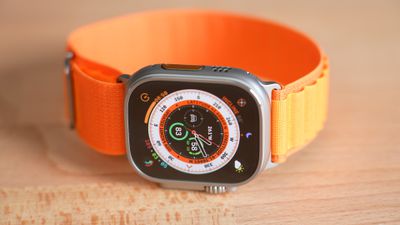 The report reiterates that Apple has been actively developing microLED technology since it acquired California-based company LuxVue in 2014. Given that microLED display production remains challenging, manufacturing costs are higher, which is why Apple will start rolling out the technology with the Apple Watch Ultra before larger devices.
European company ams OSRAM will be the primary supplier of microLED chips for Apple, but there is potential for Taiwanese suppliers like Epistar to become additional suppliers of microLED chips by 2026-2027, according to the report.
A new Apple Watch Ultra with a microLED display has been rumored by several sources, including Display Supply Chain Consultants CEO Ross Young, Bloomberg's Mark Gurman, and Haitong International Securities analyst Jeff Pu. Gurman said the microLED transition could begin by the end of 2024, but noted the timeframe could slip into 2025. Young also gave a 2025 timeframe, so the technology could be at least two years away.
Pu said the new Apple Watch Ultra will likely feature a larger 2.1-inch display, and microLED technology would allow for increased brightness compared to existing Apple Watch models with OLED displays. The current Ultra has around a 1.9-inch display.
In the meantime, Apple is still completing its lengthy transition from LCD to OLED display technology. The Apple Watch has used OLED since it launched in 2015, and iPhone models gradually switched to OLED starting in 2017. Rumors suggest the first iPad Pro and MacBook models with OLED displays will be released in 2024.