Standard iPhone 15 Models to Lack ProMotion and Always-On Display Features
Apple's standard iPhone 15 models will not be equipped with an LPTO display, suggesting that the devices will continue to lack ProMotion support and an always-on display option like Apple's Pro models have.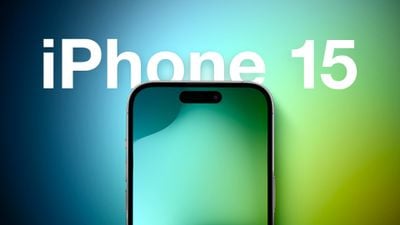 Last year's iPhone 14 Pro and Pro Max models used updated low-power display backlighting that supports ProMotion refresh rates that range from 1Hz to 120Hz. The refresh rate of the display adapts to what's happening on-screen, with lower rates used for static content and higher rates reserved for motion like games and video for a smoother, more responsive experience.
According to an industry source cited by news aggregator account "yeux1122" on the Korean Naver blog, just like last year, only the Pro models in the iPhone 15 series will be equipped with the LPTO panels required for ProMotion, indicating that the feature will remain exclusive to Apple's higher-end models. From the machine-translated blog post:

Apple is said to have already made arrangements to deliver iPhone 15 series display panels to domestic companies, and will soon finalize details and prepare for mass production. What is confirmed here is that only the Pro Series will have a specification that supports LTPO 120 refresh rate, with the basic regular Plus model not having it in its requirements.
If accurate, unfortunately this means that the always-on display option will also remain a Pro-exclusive feature, since it is the 1Hz refresh rate capability of the updated LPTO panels that enables an idle Lock Screen to stay visible without significantly impacting battery.
The Naver blog's industry source corroborates the thinking of respected display analyst Ross Young, who in September 2022 said that while he expects Dynamic Island to feature on all iPhone 15 models, production scale constraints will likely prohibit Apple from bringing LPTO panels to the entire iPhone 15 series.
According to Ming-Chi Kuo, Apple's China-based supplier BOE, which has won orders for the iPhone 15 and iPhone 15 Plus, will not have production capacity for mass shipments of LTPO displays for high-end iPhones until 2024 at the earliest.
On the plus side, all iPhone 15 models will be equipped with a more power-efficient OLED display driver chip manufactured based on a 28nm process, compared to 40nm for current models, according to one report. The primary benefit of the 28nm chip would be reduced power consumption, which could contribute to longer battery life for iPhone 15 models.
For the latest rumors about the iPhone 15 lineup, read our roundups linked below.