Got $135 to Spare? Beguile Onlookers With This Convincing iPhone 14 Pro Ripoff
Chinese brand LeEco has launched a new smartphone that can only be described as a shameless knockoff of the iPhone 14 Pro series, right down to the triple-lens rear camera design and Dynamic Island. But look closer and there are some unwelcome hidden surprises.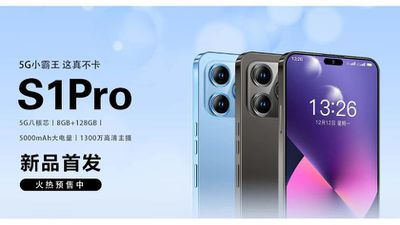 Called the LeEco S1 Pro and costing 899 Yuan ($135), the copycat device is certainly more affordable than Apple's ‌iPhone 14‌ Pro models starting at $999, but as you might imagine, the makers have cut several corners when it comes to the specifications.
For starters, the 6.5-inch display uses an LCD panel rather than OLED, while the resolution is 1600 x 728 with a 60Hz refresh rate. Compare that to the 2556 x 1179 resolution and variable 120Hz refresh rate on the ‌iPhone 14‌ Pro, and it's already clear that we're comparing apples and oranges.
The Dynamic Island-like pill shape at the top of the display houses a 5MP selfie camera, but alas, no Face ID (there's a fingerprint sensor on the side of the handset) although the cutout is said to be fully interactive. But any remaining hope that this could work as a like-for-like substitute for Apple's premium offering falls flat when you consider the rear of the device, which comes with a whopping functionality caveat.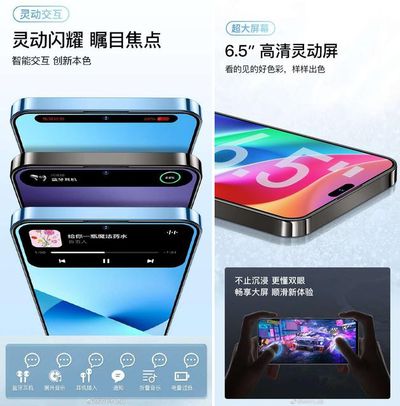 The triple-lens housing on the back actually contains only a single working 13MP camera – the other two holes are entirely redundant. Still, onlookers would be none the wiser, and clearly that's the point: Owners get to show off the premium aesthetic of an ‌iPhone 14‌ Pro, just without the costly hardware or features that underpin its premium status.
The handset comes in titanium black and blue. Powered by a Zhanrui T7510 chipset, the LeEco S1 Pro comes in a single configuration featuring 8GB of RAM, 128GB of internal storage, and support for 5G connectivity, courtesy of Huawei Mobile Services.