Only 50% of iPhone Casings Made in India Meet Apple's Quality Standards
Apple is facing difficulties scaling up its production operations in India amid poor component yields and slow progress, the Financial Times reports.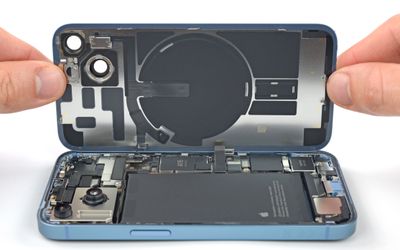 Image via iFixit
The company is apparently contending with immense difficulties in ramping up production in the country. At a factory in Hosur run by Apple supplier Tata that manufactures iPhone casings, only one in every two components coming off the production line "is in good enough shape" to be sent forward to assembly at Foxconn. The 50 percent yield is particularly low for almost any production operation and works against Apple's "zero-defect" manufacturing and environmental goals.
Former Apple engineers told the Financial Times that Chinese ‌iPhone‌ suppliers and government officials have a "whatever it takes" approach to win ‌iPhone‌ orders, describing how work was often completed weeks ahead of schedule at "inexplicable speed." Operations in India, on the other hand, are not running at this pace. "There just isn't a sense of urgency," one Apple engineer remarked.
Apple is apparently focused on a long term plan to improve manufacturing proficiency in the country. The company has sent product designers and engineers from California and China to factories in southern India to train locals and help set up production operations, according to four individuals who purport to be familiar with the matter.
Apple began producing entry-level ‌iPhone‌ models, starting with the iPhone SE, in India in 2017. Last year, Apple significantly stepped up its production in India, building some iPhone 14 models in the country within weeks of their launch in China.
Tata is said to have ambitions to become a full-service Apple supplier in the future and is in talks to take over a troubled Wistron iPhone assembly plant in Karnataka. Apple's long-term plan to diversify its global supply chain continues.