Google Adding 'Bard' Chatbot to Google Search, While Microsoft Debuts Updated ChatGPT Technology for Bing
The growing popularity of OpenAI's ChatGPT chatbot has inspired Microsoft and Google to add conversational AI functionality into their search products, with both companies making AI-related announcements this week.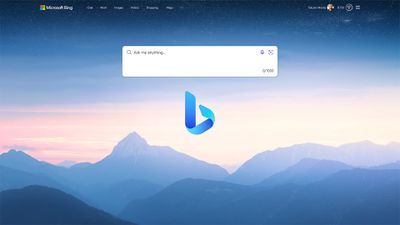 Google yesterday introduced Bard, a chatbot AI project that has been in the works for some time. Powered by Google's Language Model for Dialogue Applications (LaMDA), Bard is an experimental conversational AI service for Google Search that is set to become available to the public in the coming weeks.
According to Google, Bard is designed to "combine the breadth of the world's knowledge with the power, intelligence and creativity of our large language models," providing high-quality responses, which is exactly what ChatGPT does.
Bard will be released with a lightweight version of the LaMDA AI, which Google says will scale well as it does not require much computing power. Bard's initial launch will be in a testing capacity, with Google set to make updates and improvements over time, and it will be rolling out on Google Search in the near future.
Following Google's Bard announcement, Microsoft today held an event where it announced plans to add conversational AI tools to both the Bing search engine and the Edge browser. Microsoft worked with OpenAI on ChatGPT, and an upgraded version of the AI technology that powers ChatGPT is built into Bing and Edge.
"AI will fundamentally change every software category, starting with the largest category of all - search," said Microsoft CEO Satya Nadella.
Bing allows for complex searches that can help with things like planning a trip itinerary or researching a television to buy. Microsoft says that users can refine their searches by asking for more details, clarity, and ideas. Bing is also able to perform creative tasks like writing an email, creating a quiz for trivia night, prepping for a job interview, and more.
The new Microsoft Edge browser is also available with added AI capabilities. Edge can do things like summarize reports and provide key information, create comparisons between companies and products, and compose content when provided a prompt. It can take into account tone, format, and length with instruction.
Microsoft says that the new OpenAI model that it's using is more powerful than ChatGPT, and it has been customized for search. The AI model is "faster, more accurate and more capable."
The updated Bing search engine with ChatGPT integration is available as of today, though in a limited preview capacity. Users can try sample queries on the Bing website and sign up for the waitlist. Microsoft plans to scale the preview to millions of people in the coming weeks, and a mobile experience will be in preview soon.
With Google and Microsoft both rolling out conversational AI products, it is possible that Apple could be planning to introduce similar capabilities to the Safari browser in the future. For now, AI chatbot functionality will soon be available through the Bing and Google Search engines that can be accessed through the Safari browser.