Apple Executives Discuss M2 Chips, Gaming on Mac, Intel and More
Following the release of the Mac mini and the MacBook Pro with M2 Pro and ‌M2‌ Max chips, Apple's platform architecture VP Tim Millet and product marketing VP Bob Borchers did an interview with TechCrunch's Matthew Panzarino to discuss the new technology, the transition away from Intel, the future of gaming on the Mac, and more.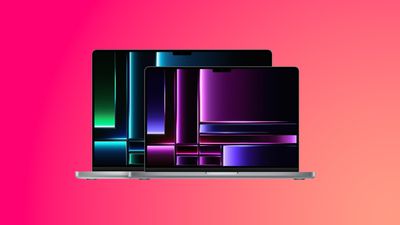 With the followup to the M1 chip line, Millet said that Apple did not want to set a precedent of a few percentage points of gain with each new chip generation. Instead, the company aimed to push to the limits of technology as far as it could.

"The M2 family was really now about maintaining that leadership position by pushing, again, to the limits of technology. We don't leave things on the table," says Millet. "We don't take a 20% bump and figure out how to spread it over three years...figure out how to eke out incremental gains. We take it all in one year; we just hit it really hard. That's not what happens in the rest of the industry or historically."
Borchers said that by moving Mac chip design in house, Apple is able to bring silicon, software, and hardware together without relying on outside vendors. Being able to work alongside designers, the hardware team, and the software team "makes all the difference" in Apple's ability to "really target" and add "things that matter" to Macs.
On the topic of Apple's former partnership with Intel, Millet and Borchers praised the company's willingness to accommodate Apple's needs, with Millet also suggesting that the relationship between Apple and Intel ultimately benefited Apple's competitors.
"Intel was a great partner through the years where we shipped the Intel machines. They were very responsive; they really actually were inspired by the direction that Apple pushed them. And I think our products benefited from that interaction. Of course, our competitors' products benefited from that interaction as well sometimes," notes Millet.
As for gaming on the Mac, Borchers says that Apple feels gaming is getting better with each M-series chip release. He said that Apple is adding in new APIs and expanding Metal with Metal 3, so there's "tremendous opportunity" for game makers.
Apple plans to continue to look at chip configurations and components through a gaming lens, and Millet said that while Apple is taking a "long view" on turning the Mac into a gaming platform, work began with the first days of the Apple silicon transition.
"The story starts many years ago, when we were imagining this transition. Gamers are a serious bunch. And I don't think we're going to fool anybody by saying that overnight we're going to make Mac a great gaming platform. We're going to take a long view on this."
According to Millet, Apple is working to build an installed base of strong GPUs. Apple wants the full Mac lineup to have "very capable GPUs," from the MacBook Air to the Mac Studio with M1 Ultra. He also believes that developers haven't yet adapted to M-series chips. "Game developers have never seen 96 gigabytes of graphics memory available to them now, on the ‌M2‌ Max," said Miller. I think they're trying to get their heads around it, because the possibilities are unusual."
Panzarino's full interview, which can be read over at TechCrunch, covers additional topics that include the transition to Apple silicon, how the iPad Pro led to Apple's Mac chips, the relationship between teams, optimizations in design cycles with Apple silicon, the best time to buy a Mac, and the value of the ‌Mac mini‌.