What to Expect From Apple's Earnings — First Revenue Decline Since 2019?
Apple is set to report its earnings results for the first quarter of its 2023 fiscal year tomorrow at 1:30 p.m. Pacific Time. Apple CEO Tim Cook and Apple CFO Luca Maestri will discuss the results on a conference call for investors a half hour later.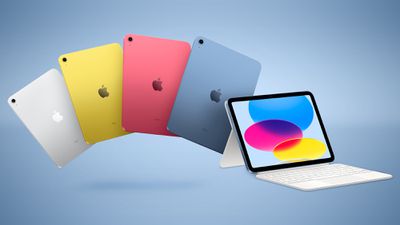 Keep reading for some key things to know about the quarter, including a recap of products announced, revenue expectations, and more.

New Products During Quarter
Apple's first quarter ran from September 25 through December 31, according to the company's 2023 fiscal calendar. Apple released a handful of new products during this period, including updated iPad and Apple TV models:

11-inch iPad Pro (4th generation) and 12.9-inch iPad Pro (6th generation)
iPad (10th generation)
Apple TV 4K (3rd generation)
iPhone 14 Plus (pre-orders began in September)
First Revenue Decline Since 2019?
On average, Apple is estimated to report revenue of $121.2 billion for the quarter, according to Yahoo Finance. This would be down around 2% from $123.9 billion in the year-ago quarter and represent Apple's first revenue decline since 2019.
In November, Apple issued a rare warning to investors about iPhone 14 Pro supply constraints:
COVID-19 restrictions have temporarily impacted the primary iPhone 14 Pro and iPhone 14 Pro Max assembly facility located in Zhengzhou, China. The facility is currently operating at significantly reduced capacity. As we have done throughout the COVID-19 pandemic, we are prioritizing the health and safety of the workers in our supply chain.

We continue to see strong demand for iPhone 14 Pro and iPhone 14 Pro Max models. However, we now expect lower iPhone 14 Pro and iPhone 14 Pro Max shipments than we previously anticipated and customers will experience longer wait times to receive their new products.

We are working closely with our supplier to return to normal production levels while ensuring the health and safety of every worker.
Conference Call
Apple's CEO Tim Cook and CFO Luca Maestri will hold a conference call at 2:00 p.m. Pacific Time tomorrow to discuss the company's first quarter earnings results. The call should be around one hour long and will include a Q&A segment with analysts.
A live audio stream of the conference call will be available on Apple's Investor Relations page, and a recording will be available at a later time for replay.
Investors will be listening for any potential commentary surrounding the economy as concerns persist about a recession in the U.S. and other countries.

What's Next
Apple's second quarter of fiscal 2023 began January 1 and runs through April 1. The quarter has already included orders for updated 14-inch and 16-inch MacBook Pro models, updated Mac mini models, and a new HomePod.
Apple has not provided guidance since the start of the COVID-19 pandemic, but analysts currently expect Apple to post sub-1% year-over-year growth in Q2 2023.
AAPL is currently trading slightly below $143, down around 20% from a 52-week high of $179.61.