New 256GB Mac Mini and 512GB MacBook Pro Have Slower SSD Speeds Than Previous Models
While the new Mac mini with the M2 chip has a lower $599 starting price, the base model with 256GB of storage has slower SSD read and write speeds compared to the previous-generation model with the M1 chip and 256GB of storage.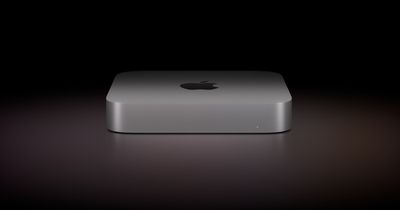 A teardown of the new Mac mini shared by YouTube channel Brandon Geekabit reveals that the 256GB model is equipped with only a single 256GB storage chip, while the same configuration with the M1 chip has two 128GB chips. This difference explains why the new model has a slower SSD, as multiple NAND chips allow for faster speeds.
We have confirmed with the Blackmagic Disk Speed Test benchmarking app that SSD read and write speeds for the new 256GB Mac mini are each around 1,500 MB/s, which is anywhere from 30% to 50% slower than read and write speeds for the equivalent previous-generation model, although benchmark results and real-world performance can vary.
Customers who are looking for the fastest SSD speeds should ensure they configure their M2 Mac mini with at least 512GB of storage to avoid this issue. A slower SSD can impact file transfer speeds, and overall performance can also take a slight hit since Macs temporarily use SSD space as virtual memory when physical RAM is fully used.
As for the higher-end Mac mini with the M2 Pro chip, the base model with 512GB of storage appears to have two fewer NAND chips than the Intel-based model it replaced, according to a teardown shared by MacStadium's Brian Stucki.
13-inch MacBook Pro and MacBook Air models with the M2 chip and 256GB of storage also have slower SSD speeds due to a single NAND chip, and evidently Apple has not decided to change course with the new Mac mini.
In a statement shared with The Verge last year, Apple claimed that M2-based Macs have "even faster" performance for real-world activities, but it's unclear if the statement was referring to SSD performance or overall system performance:
Thanks to the performance increases of M2, the new MacBook Air and the 13-inch MacBook Pro are incredibly fast, even compared to Mac laptops with the powerful M1 chip. These new systems use a new higher density NAND that delivers 256GB storage using a single chip. While benchmarks of the 256GB SSD may show a difference compared to the previous generation, the performance of these M2 based systems for real world activities are even faster.
We have reached out to an Apple spokesperson for additional comment on the matter and will update this story if we hear back.
Update: As noted by 9to5Mac, the new MacBook Pro also has slower SSD speeds when configured with 512GB of storage due to a reduction in NAND chips.