iPhone 15 Pro Max Periscope Lens Coming to Both iPhone 16 Pro Models in 2024
The iPhone 15 Pro Max will be the sole Apple smartphone of 2023 to get a periscope camera lens and benefit from greatly enhanced optical zoom, with the hardware only set to become a feature of both Pro models next year, claims a new Korean report.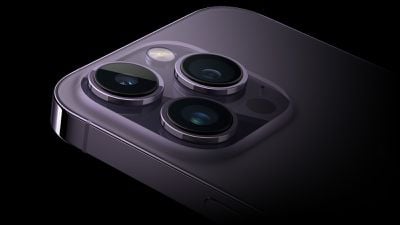 According to The Elec, Apple intends a "Folded Zoom" periscope telephoto lens to be an exclusive feature in the iPhone 15 Pro Max this year, corroborating a report by Apple analyst Ming-Chi Kuo. Kuo has previously said the iPhone 15 Pro Max will be only model in the iPhone 15 series to get a periscope camera lens, a prediction that analyst Jeff Pu has also made. The Korean report claims Apple will then make the periscope lens system a feature of both iPhone 16 Pro models in 2024.
In a periscope system, light entering the telephoto lens is reflected by an angled mirror towards the camera's image sensor. The change in direction in which the light travels allows for a longer "folded" telephoto setup inside phones, enabling users to zoom in further without any blurriness.
According to The Elec, Apple is tapping new suppliers for the OIS actuators that will be used in the periscope lens destined for this year's iPhone 15 Pro Max. Apple will rely on Korean companies LG Innotek and Jahwa Electronics to supply the actuators, replacing existing iPhone camera module actuator makers Japan Alps and Mitsumi.
Both LG Innotek and Jahwa have worked with Samsung to develop the ball-type actuators, which lend themselves better to folded zoom modules than the spring actuators Apple currently uses in its telephoto modules. Samsung's Galaxy S22 Ultra already features a 10x zoom periscope telephoto camera.
Apple's decision to make hardware features exclusive to this year's 6.7-inch iPhone 15 Pro Max model is likely to cause frustration among would-be upgraders who seek the best features in the smaller 6.1-inch Pro model. Apple has not differentiated camera features between its iPhone "Pro" models since the iPhone 12 Pro and iPhone 12 Pro Max.
Rumors have suggested that there will be increased differentiation between the iPhone 15 Pro and iPhone 15 Pro Max, in part because of stronger iPhone 14 Pro Max sales than expected. Bloomberg's Mark Gurman has said the iPhone 15 Pro Max could potentially be renamed the iPhone 15 Ultra, like the Apple Watch Ultra.
Additional details for the ‌iPhone 15‌ are still rather scarce given its expected September release, but Apple is widely expected to shift to USB-C and expand the Dynamic Island to all of this year's iPhones.