Apple Working on Fix for iPhone 14 Pro Horizontal Lines Display Issue
Apple has acknowledged that iPhone 14 Pro Max users may see flashing horizontal lines on their display when the device is being turned on.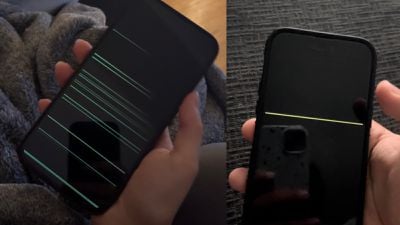 Last month,
MacRumors
reported
that a growing number of ‌iPhone 14‌ Pro customers described seeing green and yellow horizontal lines flash on their
iPhone
display when the device is being turned on. The exact details at the time, including whether or not Apple was looking into the issue or whether it was a hardware or software problem, were unknown.
Now, in a new memo, Apple has acknowledged the issue and put at ease concerns it stems from a hardware defect, confirming it's being investigated and an iOS update to address it will be released soon. ‌iPhone 14‌ Pro customers may "report that when they power on or unlock their phone, they briefly see horizontal lines flash across the screen," the memo seen by MacRumors says. "Apple is aware of the issue and a software update is coming soon that will resolve the issue," the memo adds.
iOS 16.3 is currently undergoing testing with developers and members of the public beta program, but that update is not expected to launch for at least several more weeks. More imminently, Apple could release iOS 16.2.1, following the release of iOS 16.2 last month, to address this and other bugs being experienced by users.