Sketchy ChatGPT App Soars Up App Store Charts, Charges $7.99 Weekly Subscription [Update: Removed]
A sketchy app claiming to be the bot ChatGPT has soared up App Store charts, charging users a $7.99 weekly subscription to use a service that is entirely free to use on the web and seemingly has no affiliation to the actual bot.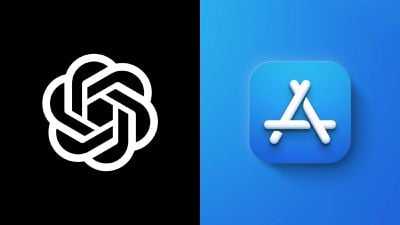 ChatGPT has soared in popularity recently, with some calling it the "iPhone moment" for AI, given its mainstream appeal. ChatGPT can articulate short and long-form responses when given a simple prompt, such as to write an email, essay, message, and more. The bot has seen its popularity grow with students and those in academia who have used it for research and assignments.
ChatGPT is free to use on the web for anyone with an OpenAI account, but it has inspired scammers and sketchy developers to take advantage of its popularity for ill-gained profit. One app in particular, named "ChatGPT Chat GPT AI With GPT-3," gives the impression it is the official app for the ChatGPT bot, but appears to have no affiliation to Open AI, the creators of ChatGPT, or the bot itself.
The app charges users a $7.99 weekly or $49.99 annual subscription to use the bot unlimited times and eliminate intrusive in-app ads. The app and its bot are inconsistent, sometimes providing generic or entirely irrelevant responses to a prompt offered by the user.
The app is currently the second most popular productivity app on the App Store in the United States, indicating it is rather popular. The app has nearly 12,000 ratings, with a number of positive and negative reviews. "This is a fake app," one review said. "This is just faking openai endorsement and more bad stuff," another user said. Despite its suspicious activity, presence, and soaring popularity, the app has passed Apple's ‌App Store‌ review process multiple times since its initial launch three weeks ago.
The iOS App Store is full of folks putting ChatGPT into a paid wrapper with ambiguous language that would let you believe you're paying for ChatGPT pic.twitter.com/3w0rK14E5I — Austen Allred (@Austen) January 7, 2023
The developers behind the app, named "Social Media Apps & Game Sports health Run Hiking Runing fitness tracking," have other sketchy apps on the platform, including an "Activity Lock Screen Widget 16" app and "BetterTrack Ride Hike Run Swim" app.
Apple is known to be facing a tough battle against scams and sketchy apps on the ‌App Store‌, with some raking in millions of dollars in revuene. Apple, however, calls the ‌App Store‌ a "trusted platform" where apps are "held to the highest standards for privacy, security, and content."
Update January 10, 11:45 am: The app has been removed from the ‌App Store‌.