Tiny iPhone 13 Mini Outlasts Giant iPhone 12 Pro Max
Amid major battery life improvements across the iPhone 13 lineup, even the iPhone 13 mini now surpasses last year's iPhone 12 Pro for battery life when streaming video.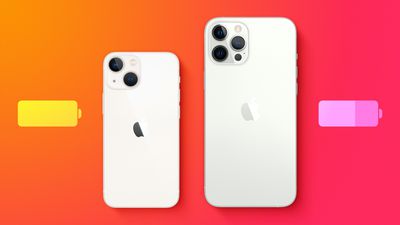 Though there are battery life improvements during virtually all tasks, streaming video performance is where the iPhone 13 lineup's battery life boost is most apparent:
iPhone 12 mini: 10 hours
iPhone 12: 11 hours
iPhone 12 Pro: 11 hours
iPhone 12 Pro Max: 12 hours
iPhone 13 Mini: 13 hours
iPhone 13: 19 hours
iPhone 13 Pro: 20 hours
iPhone 13 Pro Max: 25 hours
The iPhone 13 models feature a more efficient A15 chip and larger batteries, with less power-hungry ProMotion displays on the "Pro" models, which makes for dramatic battery life improvements. With video streaming services now being so ubiquitous, not to mention the importance of Apple TV+ and Apple Fitness+, Apple has clearly factored streaming computations into the iPhone 13's power optimizations that it has achieved through the tight integration of its hardware and software.
For example, Apple claims that when streaming video, the iPhone 13 Pro and Pro Max last nine hours and 13 hours longer than last year's equivalent models, respectively. Taking the same metric, the battery in the iPhone 13 mini manages 13 hours, which is even longer than the iPhone 12 Pro Max.
This is particularly significant since not only was the iPhone 12 Pro Max the iPhone with the best battery life last year, but it was also the physically largest iPhone of recent years with a big internal battery. Now, the even smallest iPhone beats out the large iPhone 12 Pro Max, representing how significantly battery life has been upgraded with the iPhone 13 models.
In real-world continuous usage tests, the iPhone 13 mini surpasses the iPhone 12 by over an hour and a half, with an even bigger four-hour boost on the iPhone 13 Pro Max. Of course, battery life varies by use case and many other factors, so actual real-world results will vary, but the improvements are sure to be a major benefit to avid streamers in particular.
Even with the iPhone 13 mini's battery life improvements, the smallest iPhone is still limited to a lower 12-watt peak when charging via MagSafe, likely due to thermal constraints.