Bloomberg: Apple's First AR/VR Headset 'Pricey, Niche Precursor' to More Ambitious AR Glasses and Could Launch Next Year
Apple's first virtual reality headset will be a "pricey, niche precursor" to a more ambitious augmented reality product, according to a new report from Bloomberg's Mark Gurman.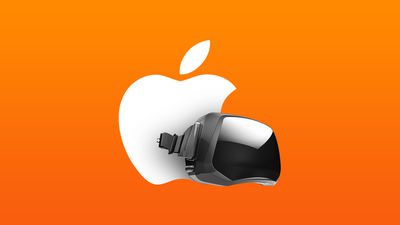 As a mostly virtual reality device, it will display an all-encompassing 3-D digital environment for gaming, watching video and communicating. AR functionality, the ability to overlay images and information over a view of the real world, will be more limited. Apple has planned to launch the product as soon as 2022, going up against Facebook Inc.'s Oculus, Sony Corp.'s PlayStation VR and headsets from HTC Corp., the people said. They asked not to be identified discussing private plans.
According to the report, the initial device has hit "several development hurdles" and the company has "conservative" sales expectations. However, the high-end, niche product reportedly aims to prepare outside developers and consumers for more mainstream AR glasses further down the line.

The plans suggest that Apple's first headset will be far more expensive than those from rivals, which cost about $300 to $900. Some Apple insiders believe the company may sell only one headset per day per retail store. Apple has roughly 500 stores, so in that scenario, annual sales would be just over 180,000 units — excluding other sales channels. That would put it on par with other pricey Apple products, such as the $5,999 Mac Pro desktop computer. An Apple spokesman declined to comment.
According to the report, Apple plans to put much higher resolution displays in the headset than those in current VR offerings, and it aims to include advanced chips more powerful than even its latest M1 processors found in Apple Silicon Macs.
Apple is also said to have included a fan in the design of the headset, which is codenamed N301 and in a late prototype stage and yet to be finalized, suggesting the company's plans could change or the device could even be scrapped.
The inclusion of the fan and powerful processors is said to have initially resulted in a device that was too large and heavy, so Apple reportedly brought the headset closer to the face and helped shrink the size. This meant users can't wear eyeglasses while using the headset, so to address this, Apple has developed a system where custom prescription lenses can be inserted into the headset over the VR screens. Apple is also said to be discussing how it might implement prescriptions at the point of sale online and in retail stores.
Meanwhile, the AR glasses, codenamed N421, are in an even earlier development stage and are "several years away," according to people with knowledge of the matter, although Apple had initially planned to to release them as early as 2023.
Current prototypes of the AR glasses are said to resemble high-priced sunglasses with thick frames that house the battery and chips. Former chief designer Jony Ive, who has since departed the company, is said to have preferred the concept of the N421 glasses over the headset.
Apple was initially aiming for an ultra-powerful headset that came with a hub to house the processor, but Ive did not want to sell a device that would require a separate, stationary device for full functionality.
Ive instead wanted a headset with less powerful technology that could be embedded directly in the device, but the leader of the AR/VR team, Mike Rockwell, wanted the more powerful device. It was a standoff that lasted for months, and Tim Cook ultimately sided with Ive.
As a result, the headset is reportedly designed to work as a standalone device, meaning it can operate on a battery rather than be plugged into a wall or a Mac. According to Gurman, prototypes of the headset include external cameras to enable some AR features. Apple is said to be testing using the cameras for hand-tracking and is also working on a feature where a user can type virtually in the air to input text.
Apple's AR/VR ambitions have long been rumored, with many of the developments emerging from Gurman's reporting. Be sure to check out the full Bloomberg article, and for everything we know on Apple's AR/VR plans, check our dedicated roundup.