iPhone 12 Colors: Deciding on the Right Color
The iPhone 12 and ‌iPhone 12‌ Pro arrived in October 2020 in a range of color options, with entirely new hues available on both devices, as well as some popular classics. The 12 and 12 Pro have different color choices, so if you have your heart set on a particular shade, you might not be able to get your preferred model in that color.

iPhone 12 mini and iPhone 12
The iPhone 12 mini and ‌iPhone 12‌ are available in six colors. Apple selected a bolder, brighter color palette for the ‌iPhone 12‌ lineup. The six available colors are:

Black
White
(PRODUCT)RED
Green
Blue
Purple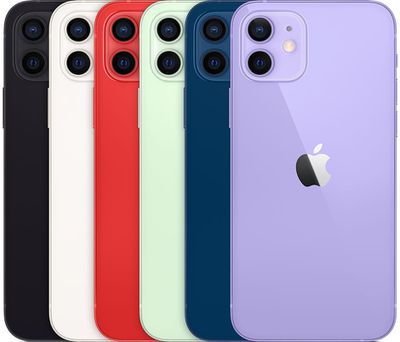 The Black ‌iPhone 12‌ should not be confused with Space Gray or Apple's new Graphite color. White, on the other hand, is largely analogous to the ‌iPhone 12‌ Pro's Silver, except with less prominent matte aluminum edges.
In April 2021, Apple added a brand new Purple iPhone 12 color option to the lineup, matching the new Purple iMac.

iPhone 12 Pro and iPhone 12 Pro Max
The ‌iPhone 12‌ Pro and iPhone 12 Pro Max are available in four colors. In contrast to the ‌iPhone 12‌ and ‌iPhone 12 mini‌, Apple selected a more subdued and mature color palette for the ‌iPhone 12‌ Pro models. The four available colors are:

Silver
Graphite
Gold
Pacific Blue


It is worth noting that the ‌iPhone 12‌ Pro's Silver color only refers to the edges of the device. The Silver ‌iPhone 12‌'s rear is in fact white. Moreover, the new Graphite color, in reality, appears to be very similar to Space Gray from previous generations.
Pacific Blue replaces 2019's Midnight Green on the iPhone 11 Pro, and there is no longer a green Pro model available.

How to Decide on Color
If you use your ‌iPhone‌ with a case, you may wish to consider which color will best complement your case. It may be the case that you prefer more neutral tones such as Black or White on the ‌iPhone 12‌, or Graphite or Silver on the ‌iPhone 12‌ Pro, and then use a more colorful case. If you do not use a case, you may wish to take advantage of a more eye-catching color option.
Customers with multiple Apple devices may also want to get an ‌iPhone‌ color that compliments their other devices. For example, if you already have a Space Gray MacBook Pro, it will be best accompanied by the Graphite ‌iPhone 12‌ Pro. Likewise, if you have a Silver stainless steel Apple Watch, it will match the Silver ‌iPhone 12‌ Pro.
If you want an ‌iPhone‌ in an entirely new shade, Purple, Blue, and Pacific Blue are the newest colors available. These colors are the ones that are most likely to indicate that you have the latest device.
Color choice may also be dependent on how often you upgrade your ‌iPhone‌. If you upgrade every year, you may be more confident in buying a new color, but if you keep your ‌iPhone‌ for many years, it may be wiser to consider a color that you have enjoyed previously if it is still available.
If you still need help deciding on the ‌iPhone 12‌ vs. the ‌iPhone 12‌ Pro, see our iPhone 12 vs 12 Pro buyer's guide.
Update: The Gold ‌iPhone 12‌ Pro is reportedly more resistant to fingerprints than the other ‌iPhone 12‌ Pro colors due to a different coating that is applied to the stainless steel frame.
The new Gold color uses a special high-power, impulse magnetron sputtering (HiPIMS) process that applies the coating in a super-dense pattern, allowing it to be tough and bright, with a molecular structure that mimics the stainless steel underneath, making it more durable than "standard" PVD. One additional benefit is that it is easier to wipe clean and takes on less fingerprints.
The new coating is also apparently "more durable" than the one applied to other ‌iPhone 12‌ Pro finishes, suggesting that the Gold version of the device could be at least slightly less susceptible to scratches, nicks, or other wear and tear. The increased durability and fingerprint-repellent coating on the Gold ‌iPhone 12‌ Pro may make it the best choice for customers that use their ‌iPhone‌ without a case.