App Recap: Concertino, Outgoings, and Major App Updates
In this week's App Recap, we've highlighted music app "Concertino" and finance app "Outgoing" as new apps worth checking out. We've also both highlighted older apps worth checking out and compiled a list of apps that received major updates this week.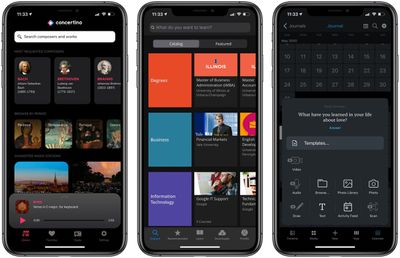 New Apps
Concertino (iOS, Free) - Apple Music client app Concertino was recently released for iOS, and it works by combining information from the Open Opus library with "an automated analysis of Apple Music metadata." The app can conveniently organize music from A to Z, by popularity, by time period, and more. Users can also organize songs by either setting them as favorites or creating playlists, and these can also be used to create a radio station. Although the app is free to download, an active Apple Music subscription is required for full music playback.
Outgoings (iOS, $1.99) - Outgoings, a new expense tracking app, allows users to track recurring expenses to gain insight as to how much is being spent on subscriptions over time. Users have the ability to set icons for individual "outgoings," which are individual subscription fees for services. Outgoing features a wide range of colors that can be used around the app. Users also have the ability to customize the app's icon by choosing from four different icons. The app allows users to create custom tags to group subscriptions, which is helpful when analyzing monthly subscriptions by type.
Older Apps to Check Out
Coursera (iOS, Free) - Coursera is an education app that offers online courses in over ten different subjects. The app is great for those looking to either simply learn more about a certain subject or enroll in a specific course to bolster a career path. Users can access over 3,500 online courses in which corresponding video lectures can be streamed from anywhere and downloaded for offline viewing. The app also features discussion forums, which can be used either to connect with other learners or to post questions. Although free to download, Coursera offers both free and paid course options, but users must take a paid course in order to unlock quizzes and obtain a Certificate. Users have the option to select several different course options at a variety of price points.


Day One (iOS & Mac, Free) - Day One, a journaling app marketed as "your journal for life," allows users to add photos, videos, drawings, and audio recordings to materialize their entries. It's simple interface makes it easy to navigate the app's many unique capabilities. Additionally, the app offers an On This Day feature that allows users to jump back to entries written in the past. The app's free version allows for unlimited journal entires, but users looking for more features such as a cloud backup and a sync across multiple devices can subscribe to Day One Premium, which is priced at $34.99 per year.
App Updates