App Recap: Voice Dream Reader, SmartGym, BIAS FX 2, and Major App Updates
In this week's App Recap, we've highlighted three apps that are worth checking out. We've also compiled a list of apps that received major updates this week.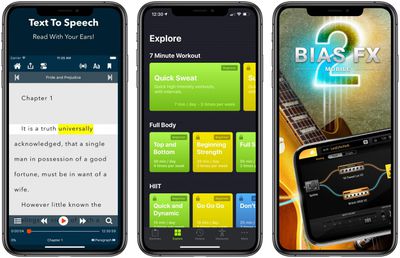 Apps to Check Out
Voice Dream Reader (iOS, $9.99) - Voice Dream reader, a text-to-speech app featured in the Today section of the App Store, has been one of the most popular accessibility apps since its launch eight years ago. The app supports the reading of PDF files, Web articles, plain text files, and more. Upon purchasing the app, users are welcomed with both 36 built in iOS voices in 27 languages and one premium Acapela voice, and over 200 other premium voices are available through in-app purchases. Voice Dream Reader also features several tools such as bookmarking, text highlighting, and annotations. There are several different reading styles that can also be customized to the likings of the user such as contrast, font size, auto-scrolling, and more. Outside of the accessibility space, the app's reading style can also be set to one of several unique settings.
SmartGym: Gym & Home Workouts (iOS, Free) - SmartGym, a popular fitness app, is being updated soon with several new features. The app lets users create and manage workout routines, view over 250 pre-installed exercises, view many pre-made workouts tailored to the interests of the user, and more. In addition, the standalone Apple Watch app can be used for tracking the health data of the user. It's worth noting that the free version of the app only provides access to two routines, 10 histories, and two measures. To access unlimited routines, measurements, and histories, users have the option to subscribe to monthly or yearly plans, which start at $4.99 and $29.99 respectively. The app's update will feature a new Smart Trainer feature which uses artificial intelligence and machine learning to create personalized workouts for the user, plus additional exercises, a new design, and more.
BIAS FX 2 (iOS, Free) - BIAS FX 2, the successor to the popular Guitar Amp and Effects app BIAS FX, was recently released with an updated library of amps and effects. The updated library features new versions of pedals, HD studio rack effects, and effect modelers, which gives users a multitude of options when creating their own unique sound. In addition, the Looper feature was introduced as part of the update, which is a songwriting tool that allows users to practice and record directly from an iOS device. The app is free to download, but additional effects require in-app purchases.
App Updates