App Recap: Views 4, CleanMyMac X, MacTracker and Major App Updates
In this week's App Recap, we've highlighted two new apps that are worth checking out. We've also compiled a list of apps that received major updates this week.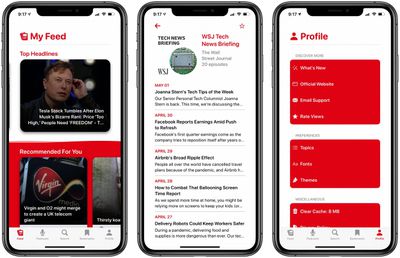 New Apps
Views 4 ($4.99) - Views 4 is a news and podcasts app that presents content tailored to the interests of the user. Upon downloading the app, users are presented with a series of screens that allow for the selection of popular interests, fonts for an optimal reading experience, and six color themes that can be used around the app. The app's easy to navigate interface is complemented with the integration of Haptic Touch when tabs and in article arrows are tapped. Aside from the ability to read articles from a personalized feed, Views also allows users to search, favorite, and download podcasts directly. The podcast interface is simple and even allows users to set a sleep timer. Views 4 is one of the latest apps to take advantage of Apple's universal purchases feature, so buying the app once will allow you to have access to it across all of your devices.
CleanMyMac X (Free) - Popular desktop cleaner app CleanMyMac X this week made its debut on the Mac App Store. Previously, the only way to use the software was to download it directly from its website. It is worth pointing out that the Mac App Store version of CleanMyMac X does not have all of the features available from the version available directly on its website. The Photo Junk, Shredder, Updater, and Maintenance features are only available from the website version of the app. Although the app is free to download, a yearly subscription fee of $34.99 is required to get access to all of the app's features.
App Updates