Spotify May Be Allowed to Stream Directly on HomePod and Set as Default Music App in iOS 14
Bloomberg's Mark Gurman today reported that Apple is working to allow third-party music services like Spotify and Pandora to be streamed directly on the HomePod with Siri in a future software update, as is possible with Apple Music. Spotify currently can only be streamed on the HomePod via AirPlay.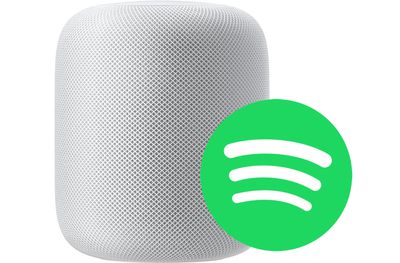 The report adds that Apple is also considering allowing third-party music services to be set as default in iOS 14, which would let users ask Siri to stream music from the likes of Spotify without specifying "with Spotify" at the end of the command. Siri currently defaults to Apple Music for these requests.
In early 2019, Spotify announced that it had filed an antitrust complaint against Apple with the European Commission over unfair ‌App Store‌ practices. At the time, Spotify took issue with Siri's lack of Spotify support on both iOS devices — which has since changed to a limited extent — and the HomePod.
An excerpt from its "Time to Play Fair" website — the wording has since been tweaked:
Apple ignores users' preferred choice of music service and instead steers them to use Apple Music exclusively. So can you ask Siri to play your favorite playlist from Spotify? No, not even if you actively want Spotify to be your default streaming service. Or can you listen to Spotify through your Apple HomePod? Sorry, no luck with that either. And by the way, Spotify is available on pretty much every other speaker device out there.
Apple has faced increasing scrutiny as of late over the way it runs its ‌App Store‌, beyond Spotify's complaint. Allowing third-party apps to be set as default would certainly help alleviate some of those concerns.
More Coverage: Bloomberg: Apple May Let iOS Users Set Third-Party Web Browser and Mail Apps as Defaults Over Stock Apps