Edison Software, makers of Edison Mail for iOS and Android, today debuted Edison Mail for desktop Macs. The developers say the app aims to eliminate common frustrations with desktop mail, all within a minimalist UI that's designed to save time managing emails.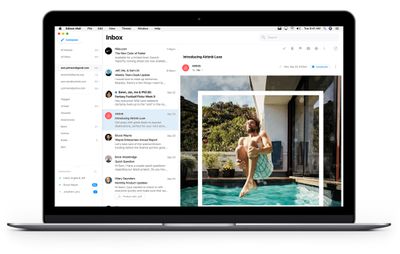 Edison Mail for Mac includes all of the features that make the mobile apps popular, including One-Click Unsubscribe for junk messages, Block Sender, Custom Snooze, Undo Send, and automatic Read Receipt Blocking to prevent advertisers from tracking your email actions.
Email "power user" features are also built-in, including Dark Mode to reduce potential eye strain, Swipe Gestures to manage mail faster, and a Unified Inbox that makes Edison compatible with nearly all email providers to manage unlimited email accounts all in one place. Edison Mail for Mac supports use with Gmail, Yahoo! Mail, Outlook, iCloud, and many other mail providers.


Edison Mail for Mac also introduces new features that are designed to maximize mailbox efficiency for desktop users. New Keyboard Shortcuts are available in three settings — default Edison Mail shortcuts, shortcuts users are already familiar with from other mail providers, and the ability to create custom shortcuts.
Elsewhere, Threading allows users to view all of their emails on the same subject together (even for non-Gmail accounts that don't support Threading), while new Email Templates aim to simplify the task of sending repeated emails with the same content.
Additionally, the ability to Search Settings allows users to find a setting item they're looking for ("‌Dark Mode‌" or "Font," for example) and other items, instead of having to navigate through all options.


According to the developers, the Mac app has been built for existing users of its mobile apps who requested a desktop version. As such, the new Mac app is available by invitation to current Edison Mail users on iOS and Android, rolling out throughout December and beyond. Everyone else can sign up to be invited to use the app at http://mail.edison.tech/mac.
Today, Edison Mail also released a new version of its app for iOS and Android featuring Assistant – a new feature to preview your upcoming meetings, travel, bills, missed calendar invitations, and forgotten subscriptions all in one place.


Assistant lives in the upper right corner of the Edison Mail inbox screen, where users can tap to see what they've got on their schedules in the coming days. Calendar integration includes the day ahead, events that users may have forgotten to RSVP for, bill payment reminders, and travel reminders and information.
Lastly, regular readers may recall that Edison was one of the mail apps found to have been letting their employees read customer emails to optimize smart features. For the record, Edison Software says it has since stopped the practice and deleted any data related to it.
For anyone who still has privacy concerns, both the mobile and desktop apps include options for users to opt-out of data sharing and fully delete any data from both the Edison app and the company's servers.
Edison Mail is available to download for free for iPhone and iPad on the App Store. [Direct Link]