HomePod Gaining New 'Ambient Sounds' Siri Feature This Fall, Radio Station Support Launching September 30
Apple this week quietly updated the HomePod's product page on Apple.com, including a few release dates for upcoming features (via 9to5Mac). HomePod will gain the ability to tune into live radio stations through Siri controls on September 30, after this feature was first announced at WWDC in June (and made available to some users in Germany this July).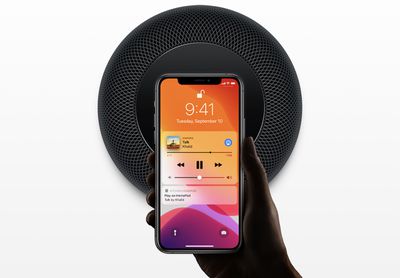 Additional ‌HomePod‌ features, including multi-user support and music handoff, will not launch until "later this fall." With iOS 13, ‌Siri‌ on ‌HomePod‌ can recognize the voices of different ‌HomePod‌ users, queuing up each person's favorite music on the speaker. Handoff lets any media you have playing on your iPhone or iPad be handed off to the ‌HomePod‌.
One new feature has also been added to the ‌HomePod‌ page on Apple.com, called "Ambient Sounds." Apple says that you'll be able to relax to sounds like ocean waves, forest birds, rainstorms, and more with this feature, also coming in the fall.


It sounds like the company is working on making ambient noise a big new feature of the ‌HomePod‌, after being requested by users since the speaker launched in early 2018. Although Apple Music has a multitude of ambient noise playlists, this should make it even easier to start playing relaxing sounds on ‌HomePod‌.
There have been numerous announcements from Apple this week thanks to the ‌iPhone‌ event yesterday, including the all new iPhone 11 family, the new 10.2-inch iPad, and Apple Watch Series 5.