Apple Said to Have Made 'Serious Bid' of ~$240 Per Share to Acquire Tesla Around 2013
It has long been rumored that Apple plans to compete in the electric vehicle market in some capacity, ranging from supplying other automakers with underlying technologies to developing its own vehicle entirely, and new information suggests that Apple may have been eyeing a major acquisition to boost its efforts.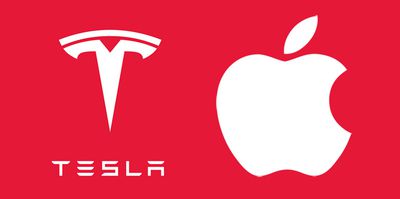 Namely, Apple is said to have made a "serious bid" for Tesla around 2013, offering around $240 per share. That's according to Craig Irwin, a senior analyst at investment firm Roth Capital Partners, who said he has "complete confidence" in this information, but he doesn't know if the bid reached a "formal paperwork stage."
"Around 2013, there was a serious bid from Apple, at around $240 a share," said Roth, speaking on a CNBC video highlighted by AppleInsider. "This is something we did multiple checks on. I have complete confidence this is accurate."
"I don't know if it got to a formal paperwork stage, but I know from multiple different sources that this was very credible," he added. "So, right now, Apple is building multiple, very large dry rooms in California… they're doing something interesting and exciting on the battery side… Project Titan is absolutely not dead."
Tesla had 114.5 million shares outstanding as of January 31, 2013, and that number increased throughout the year, so Apple's bid would have totaled at least $27.4 billion at the time. Now, the electric vehicle maker's shares are trading around the $203 mark, well below Apple's reported bid years ago.
Tesla's technologies and facilities, including its assembly plants in California and Nevada, certainly would have helped Apple's so-called "Project Titan" automotive ambitions in big ways, but the extent of Apple's plans are still unclear.
A recent report said Apple is seeking LiDAR units that are "smaller, cheaper and more easily mass produced" than current systems, which can cost over $100,000 and are considered "too bulky and prone to failure" for use in mass-produced vehicles. Apple is said to be "setting a high bar" with demands for a "revolutionary design."
Last year, Apple rehired its former VP of Mac hardware engineering Doug Field to work on Project Titan after a five-year stint as Tesla's engineering chief. Apple has a team of about 1,200 employees working on the project, according to court documents, but recent restructuring led to 190 layoffs.
Apple has been developing and testing autonomous driving software out on the streets of Cupertino, California using Lexus SUVs since early 2017. It's still unclear if we'll ever see a so-called Apple Car, but analyst Ming-Chi Kuo believes a release wouldn't be until 2023 to 2025 either way.