'Peanuts in Space' Short Coming to Apple TV App in May
Apple last year signed a deal with DHX Media and its subsidiary Peanuts Worldwide to develop and produce new Peanuts content, including original series, specials, and shorts, which will be released on Apple's TV platform.
At the time the deal was inked, a short featuring astronaut Snoopy was teased, and now that short is nearing a launch. According to Deadline, "Peanuts in Space: Secrets of Apollo 10" is set to be available through the Apple TV app in May.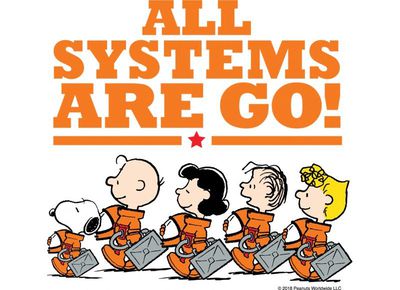 Described as a "documentary of sorts," the short aims to solve the mystery of of whether Snoopy was a world famous top-secret astronaut. Director Ron Howard and actor Jeff Goldblum star in the documentary.
Imagine's Ron Howard stars as himself along with Jeff Goldblum as a self-published NASA historian to take on the quest, which lightly spoofs the May 1969 NASA Apollo 10 mission that required the lunar module to skim the moon's surface within 50,000 feet and "snoop around" scouting a site for the upcoming Apollo 11 moon-landing.
On the Apollo 10 mission, NASA and the Apollo 10 crew named the lunar module "Snoopy" and the command module "Charlie Brown." Ahead of the mission, Peanuts creator Charles Schultz had been approached by NASA to incorporate his characters into NASA missions, which is one of the facts that formed the basis for the short film.
Peanuts and NASA in 2018 announced a partnership designed to "share the excitement of science, technology, engineering, and math (STEM) with the next generation of explorers and thinkers," which is what led to the Snoopy in space content.
"Peanuts in Space" will be the first original Peanuts content coming out on the Apple platform, and since it's launching in May, it appears it will be available independently of Apple's upcoming Apple TV+ streaming service, which isn't set to roll out until the fall.
It sounds like "Peanuts in Space" will be made available for free to everyone in the ‌Apple TV‌ app, much like "Carpool Karaoke: The Series."