Apple vs. Qualcomm Trial Begins Today
Two years after Apple sued Qualcomm over $1 billion in unpaid royalty rebates and anticompetitive patent licensing practices, the tech heavyweights are set to face off in a San Diego courtroom. The trial begins today with jury selection.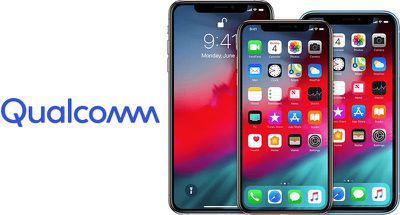 Apple manufacturers Foxconn, Pegatron, Wistron, and Compal, whose complaints have been merged with Apple's, allege that they have collectively overpaid Qualcomm approximately $9 billion in royalties, a figure that could be tripled under antitrust laws to $27 billion, according to The New York Times.
Apple argues that Qualcomm should also repay $3.1 billion associated with patents whose rights are exhausted, the report adds.
Apple in January 2017:
For many years Qualcomm has unfairly insisted on charging royalties for technologies they have nothing to do with. The more Apple innovates with unique features such as Touch ID, advanced displays, and cameras, to name just a few, the more money Qualcomm collects for no reason and the more expensive it becomes for Apple to fund these innovations.
Qualcomm in turn estimates that Foxconn, Pegatron, Wistron, and Compal owe more than $7.5 billion in unpaid royalties. Qualcomm also argues that Apple should be held liable for a doubled penalty of at least $15 billion.
Qualcomm in April 2017:
Apple is the world's most profitable seller of cellular devices. But as a late-comer to the cellular industry, Apple contributed virtually nothing to the development of core cellular technology. Instead, Apple's products rely heavily on the cellular inventions of Qualcomm and others. Apple's iPhones and other products enjoy enormous commercial success, but without lightning-fast cellular connectivity—enabled in large part by Qualcomm's inventions—Apple's iPhones would lose much of their consumer appeal.
Apple already won a preliminary judgment ordering Qualcomm to pay nearly $1 billion in withheld rebates last month. Qualcomm has also faced scrutiny from antitrust regulators in multiple countries, including the United States, where an FTC lawyer said evidence of misconduct is "overwhelming."
"The evidence is overwhelming that Qualcomm engaged in exclusionary conduct, and the effects of Qualcomm's conduct, when considered together, are anticompetitive," said FTC lawyer Jennifer Milici, during closing arguments in the FTC vs. Qualcomm trial in January, according to The Wall Street Journal.
Amidst the legal battle, Apple dropped Qualcomm as a supplier of cellular modems starting with last year's iPhone XS, ‌iPhone‌ XS Max, and ‌iPhone‌ XR, with rival chipmaker Intel fulfilling all orders for those devices.