Apple 'Racing' to Sign HBO, Showtime, and Starz for TV Service Before March 25 Event
Apple has already invited members of the press to an event on March 25, where it's believed the company will reveal its TV streaming service and Apple News subscription service. Today, Bloomberg has shared a few new details about the upcoming event, suggesting that Apple may preview new Apple Pay features and that most of Apple's original TV shows will miss the streaming service's launch window.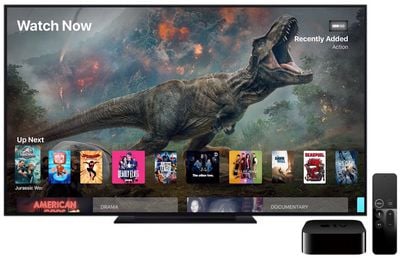 Additionally, Apple is said to be "racing" to secure movies and TV shows from partner companies ahead of the event. According to people familiar with the matter, Apple is offering concessions to partners in order to get deals done by a Friday deadline. These include HBO, Showtime, and Starz.
"At least a couple deals" are expected to close by Friday, but it's unclear if Apple will get all the programming from outside media companies that it wants for its streaming service.
Today's report claims that most of the shows and movies on the streaming service at launch will be from outside partners, not Apple's own shows, so the company is attempting to ensure that there is plenty of content to entice customers to check the service out.

At an all-hands meeting with employees in January after announcing disappointing holiday sales, Apple Chief Executive Officer Tim Cook told employees how critical services are to the company's future. This trio of new services will be the first major addition to the portfolio for consumers since the company launched Apple Pay in 2014 and Apple Music a year later.
The idea of an Apple services bundle is also brought up again in today's report, with Bloomberg's sources stating that Apple could offer the TV service and ‌Apple News‌ service at a discount for anyone who subscribes to both.
Lastly, Apple might take time to detail the company's iPhone-connected credit card, built in partnership with Goldman Sachs. Code named "Project Cookie", Goldman Sachs is said to have nearly 40 people working on the Apple deal, while Apple's side is being led by the ‌Apple Pay‌ team.
To find out more information on what might be announced during the March 25 event, check out our What To Expect guide.